AICUF launches Ignatian Week in SJC

The All-India Catholic University Federation launched the Ignatian Week in St Joseph's College on Monday with a series of events and contests. The inauguration ceremony was presided over by Fr Principal Victor Lobo and the Rector Fr. Brian Pereira. Faculty advisor Ms.Amita Priyadarshini gave a speech in which she mentioned that "There is a bigger response from the students this year from that of the previous years. We are trying to make it bigger and better."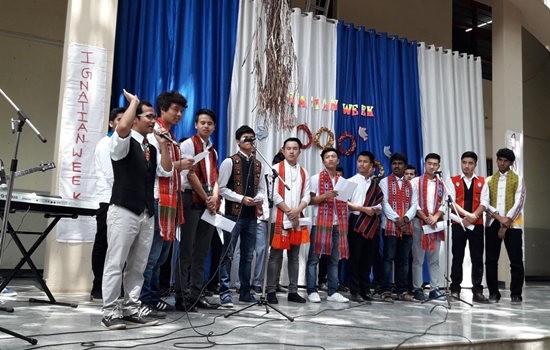 The first two days of the Ignatian Week will see intracollegiate and the last two days will have inter-collegiate events bringing together the sister institutions of St Joseph's like the SJCC, SJEC, SJC (PUC), and SJIC (PUC). The events conducted on Day 1 were Quiz, Mime, Treasure Hunt, Pot Pourri and Photography and they took place at Aloysius Hall, Xavier Hall, Hostel Block, De Nobili Hall and the Staff Seminar Hall respectively.

The event Pot Pouerialso packed events like Pictionary and Dumb Charades with the theme based on the "History of Jesuits." The photography event theme was based on 'Finding God in All Things.' "Photography is one of my hobbies and I have just enrolled for the fun of trying it. I'm not sure if I'll win but I think I'll just definitely give a shot", said Jeffin Jose, a participant from first year MCZ. The results of the events will only be announced tomorrow. The Ignatian mass will take place on 28 (Friday) followed by the Ignatian feast.
Back