Allura 2017

Use art, devices to question, urges Ekta Mittal
"Students must learn to use art and their devices to construct images to tell what they want to tell," according to Ekta Mittal, co-founder of Maraa, a City-based media art collective. She was a guest of honour at the launch of the two-day Allura 2017 festival at St Joseph's College on Friday. The fest continues on Saturday too.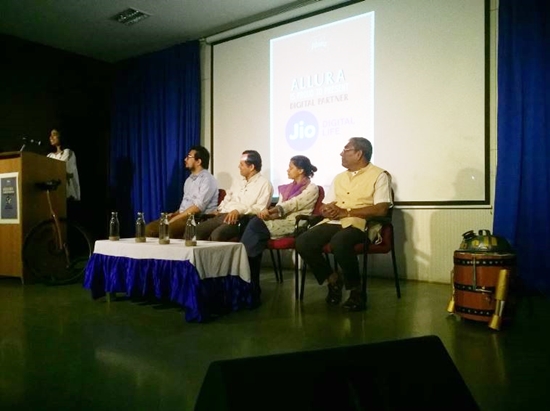 Ekta referred to the ban on student unions in colleges imposed in the eighties and urged students to "question, raise, provoke or shake up our thoughts with the use of media and art." "It is a crucial time in the world, and for the students it is important to learn to use art to tell what you want tell, to understand what the device in your hand can do and what images you are trying to construct," said Ekta Mittal.

"I urge you to think about what, how and why you communicate in the visual form. You should understand this since whatever you communicate is for society and since you are a member of society, you have a responsibility towards society" said senior journalist John Thomas, at the inaugural. "Allura is a platform for the students to learn to connect with students from other colleges, and it also trains students to organize programmess and fests" said Fr. Richard Rego, Director of Research, SJC.

Allura took off with the theme of Steampunk and on an eco-friendly note. "Going ecofriendly is a huge step. This year we scavenged through garages and our homes to find materials for our fest," said Ram Mohan, a BVC student who was volunteering for Allura. The Steampunk and Eco-themes were obvious everywhere. A monocycle leaned on the inaugural podium, and a model of R2-D2 from 'Star Wars' adorned the stage. Elsewhere, the help desk was designed as a car using an exhaust fan as a ventilator and parts from old motorbikes. The photo booth was an 'airship' made from copper wire and an old saree. Plastics, flex and thermocol, usual materials used for events, were not used anywhere.
Back