Dr. Fr. Ambrose Pinto: An indomitable spirit

Dr. Fr. Ambrose Pinto, an eminent intellectual, activist and beloved guide to hundreds of students was born in Bajpe, the suburbs of Mangalore on November 23rd, 1950. He was a Jesuit scholastic who did his scholar studies at St. Aloysius, Mangalore.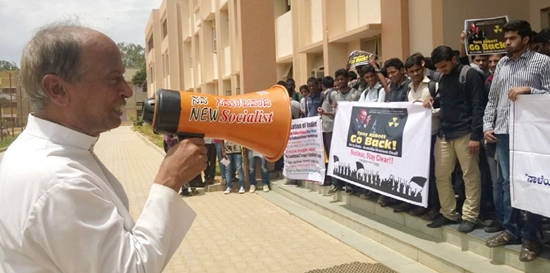 Fr. Clarence D'Souza SJ, the Vice Principal and Registrar fondly remembers Fr. Ambrose Pinto SJ, "He was four years my senior. He always had a sense of maturity as a young Jesuit brother. He was realistic in many ways, articulate and was a clear thinker."

As a young student he was an exceptional writer and was a part of the basketball team for the University of Mangalore. He did his B.Ed from RV College, Bangalore and was a rank holder.

He was ordained a priest in April 1981. Most of his teaching career was in college from 1985, when he joined the Department of Political Science at the old St. Josephs' PUC and Degree College campus. He served as the Vice Principal from 1987-88 and was the first campus minister of the college from 1988 – 1994. He served as the Principal of St. Joseph's Evening College from 1994 - 1998.

He was a thinker, scholar, writer, daring person who had a soft corner for the struggling youngsters, economically and socially backward students. He wanted to champion their cause, and worked towards providing education to them.

Much of the work towards the college's autonomy and structure was due to his work and vision. St. Joseph's became number one for science and arts during his tenure. Most of the PG courses was started during his time as well.

He was a recipient of Karnataka Rajyostava Award in 2010, the Garden City Award for best Principal also in 2010 and Journalistic Award for the best coverage for SC/ST concerns by CBCI in 2009. He has written four books on upliftment of the backwards classes and various social issues. He was also a consultant to the Karnataka Government as an expert on social matters.

"I admired him from close quarters and always. I admired him for his commitment, values as a Jesuit and a priest, and for his dedication for the education and especially the upliftment of those who are otherwise denied." said Father Clarence. He was courageous even in the face of his terminal ailment and he will always be remembered dearly. May his soul rest in peace.


Back