Panel discussion on demonetization at SJC


A panel discussion was organised by NDTV at St Joseph's College on December 16. It was telecasted live on national television under the 'Agenda' series. The topic for the pane was 'Demonitisation', which was anchored by Ms. Maya Sharma, Senior journalist, NDTV."Karnataka is once again in the news for all the wrong reasons... More+

Christmas season at SJC begins with food festival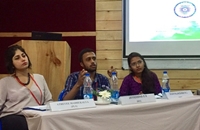 The Department of Political Science (Master's Programme), SJC organised the Third Post Graduate Student Seminar on March 15, 2017. The theme for the seminar this year was 'State of Indian Republic 2017'... More+

Josephites reach out to Sindagi as a part of social outreach program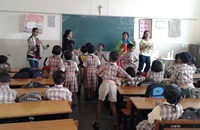 Students of St Joseph's College spent a week in Sindagi, Bijapur as a part of social outreach program from December 8 to 14. Around 60 students from Dept. of Mass Communication and Botany actively participated. Fr Rohan Almedia, SJ, Principal of Loyola CBSE school and Director of Sangama Social Service center said... More+

SJT to help the HIV/AIDS infected patients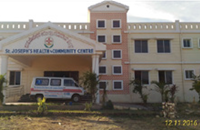 Striving to treat the infected and emancipate the masses from the stigma of HIV/ AIDS is the motto of The Society of the Sisters of St Joseph of Tarbes (SJT). St Joseph's Health and Community Centre, Bijapur has sisters, 15 medical staff, 6 counsellors and 4 outreach staff, who take care of the patients affected with HIV/ AIDS... More+

SJC funds project on the plight of Rohingyas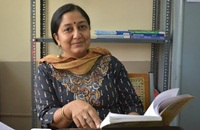 Understanding the plight of statelessness and the importance of citizenship to such people by studying the Rohingya people living in India is the underlying goal of the project by Dr. Priyanca Mathur Velath from the Department of Political Science at St Joseph's College.The college funded project titled... More+

Talk on Molecular beam


Imagine a chamber with a partition in between, where a hole is cut out for light to pass. The molecules on one side will pump out on the other side in a common direction. This is what a molecular beam is. If the hole is smaller than the mean free path (distance between collision among the molecules)... More+

Josephites get set for Panax


A group of people called 'Pana' who are interested in collection of stamps, currencies and coins are grounding for the exhibition 'Panax' that is going to be conducted by St. Joseph's college. The club was found by Principal Rev. Fr. Eugine Lobo on September 11, 1996. Presently G. Anuplal Faculty coordinator... More+

Passport facility at SJC

The Ministry of External Affairs has decided to bring benefit to students in all Indian Universities and Colleges representing the youth of India having high aspirations by providing passports to students. The objective of this program is to provide international representation to aspiring students in India... More+

Student fervour boosts participation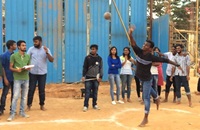 In spite of an increase in the number of female participants in sports events, the performance is still not up to the mark. Though the involvement has increased over the past six years, there is a lack of interest among girls in campus. "Since past six years, the partaking has tremendously increased among students... More+

Science lecture workshop

First Science Academies Lecture Workshop organised by Department of Chemistry is going to be held on December 1 and 2 at SJC. The workshop is going to be on Spectroscopic and Microscopic methods (SMAM) for analysis of materials. "SMAM is being held for the first time and we are expecting more than 150 participants... More+

On 'Research as Freedom'; a talk by Prof. Arvind Elangovan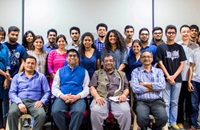 On Nov. 25 2016: the eve of "Constitution Day", St. Joseph's College (Autonomous) played host to one of its former student, Mr. Arvind Elangovan who is currently, an Assistant professor of History at the Wright State University USA: His Discourse was based upon contemporary notions of freedom and their historical roots... More+

SJC gearing up for Sports Day


The annual college athletics is proposed to be held from November 28 to December 3. The students are getting into the grove of the much awaited sports day. 'Heats' started from November 28 with Shot-put, Javelin and Discus. Students have shown a great deal of enthusiasm for participating in the event... More+

'Aarambh' of commerce PU fest at SJC

Commerce is one of the most sought after field of studies for career options by the youth. Degree colleges go through all kinds of troubles like arranging cultural events and programmes in order to attract the fresh batch of PU students to join their institutions. The Department of Commerce... More+

The Beat Goes On" for a noble cause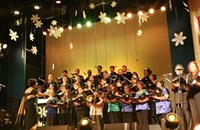 The audience at St. Joseph's auditorium were sanctified and consecrated by the performance of the Cecilian Choir, with their collection of choral music and Christmas cantata on Saturday and Sunday with two shows on each day for a cause. The theme for this event was " The Silence and The Sound... More+

Talk on Sustainable Development


On 17th January, 2017, St. Joseph's College, (Autonomous) played a host to Dr.A.Ravindra (IAS Retd.), former chief secretary to Government of Karnataka who is currently the Chairman, Board of Governors ... More+

Anatomy of communal riots explained


The exploration of the anatomy of a communal riot and understanding the forces behind it was the intention of making her acclaimed documentary, 'Kya Hua Is Shahar Ko', said filmmaker Deepa Dhanraj at the screening of the documentary as part of Mediacon 2016 on Friday. The film was released in the year 1984... More+

Panelists at Mediacon talk about media and patriarchy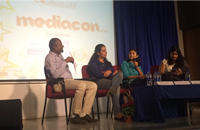 The panel discussion at Mediacon 2016 focused on issues like media, women and patriarchy with the central theme "Media and the reinforcement of the patriarchal muscle in contemporary Indian society". The panel had eminent media practitioners like Pooja Prasanna- principal correspondent at Times Now... More+

Media is biased in disseminating information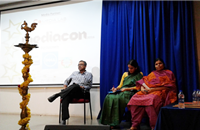 The paper presentations on the theme 'Media shift from proposition to propaganda' during 'Mediacon' concluded that most of the information transmitted through media is biased. The moderator of the session Dr. Cheriyan Alexander, HOD, Department of English at St. Joseph's college said, "Today we are increasingly bombarded by media... More+

Mediacon inaugurated with a bang


The atmosphere was electric, the excitement palpable and the Xavier Hall was packed. It was the inaugural ceremony of 'Mediacon' - a two day conference, organised by the staff and students of the Post Graduate Department of Journalism and Mass Communication. It was a National Conference where media professionals... More+

Extract value from ideas to innovate, says Dr. Ganguly


Every idea ultimately needs to find a way to benefit somebody and it is about capturing value in an idea. Innovation means that if an idea exists, then Go to Market (GTM) is the way to put it out to change the lives of the people positively. This was the view of the chief guest Dr. Jyotinath Ganguly, Associate Director of Capgemini... More+

Advocacy in Mahasweta Devi's works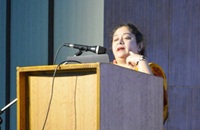 The late Mahasweta Devi's writing questioned conventional traditional aesthetics and can be considered as advocacy and not just artistic writing, according to Dr. Sushma G Murthy, professor in the Department of English at Christ University.She was giving a talk on the great writer's works at the Literati fest in SJC on Thursday... More+

'Rudali' tells story of double-Dalits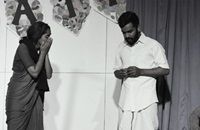 Students of MA English on Thursday put up a stunning theatrical adaptation of writer Mahasweta Devi's short story 'Rudali' in SJC as part of the Literati festival on its penultimate day.Rudali speaks of the social customs practised in the rural areas of Rajasthan where lower caste women are hired as professional mourners.... More+

Project on urban, farm sector linkages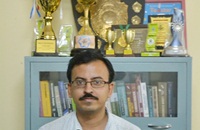 Large sections of agricultural populations are migrating to urban India and creating employment congestion thanks to a lack of rural agricultural output to generate income for its population. This is one of the observations made by Dr. Manojit Bhattacharjee, a professor in the Department of Economics... More+

An Evening with the Ambassador


The evening of the 30 th of August, 2016 turned out to be quite memorable for the students of St. Joseph's College, Bengaluru. This day was marked by a visit from one of India's more senior ambassadors who has seen much of the contemporary international scenario in his day and was the former Indian ambassador to the European... More+

Drug to fight TB at latent stage elusive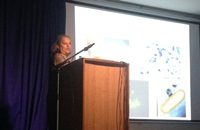 Drugs to cure tuberculosis have to be consumed at the latent stage of infection for complete eradication of the disease. But, scientists are still in search of a drug that can accomplish this, according to Dr. Sandhya S. Visweswaraiah from the Department of Molecular Reproduction, Development & Genetics, IISc, Bangalore... More+

U-turn: From real life to reel success


The late Mahasweta Devi's writing questioned conventional traditional aesthetics and can be considered as advocacy and not just artistic writing, according to Dr. Sushma G Murthy, professor in the Department of English at Christ University.She was giving a talk on the great writer's works at the Literati fest in SJC on Thursday... More+

Literati pays tribute to Mahashweta Devi


In a symbolic tribute to the late great writer Mahshweta Devi and her concern for the marginalised, several support staff of SJC had the honour of inaugurating the Literati 2016 festival on Monday. The objective of Literati 2016 was to take forward Mahashweta Devi's passion to acknowledge the unacknowledged, and give voice... More+

Economics team wins Altius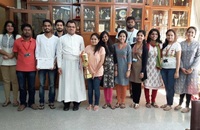 The Economic Department (Post Grad) of SJC has won the overall trophy at Altius 2016, a national-level economic fest organized by Christ University last week. The fest had 10 events, of which six were won by the SJC participants. All the participants were from II MA Economics and they emerged as the best contingent in the PG section at Altius... More+

Stoking protest through music


The Economic Department (Post Grad) of SJC has won the overall trophy at Altius 2016, a national-level economic fest organized by Christ University last week. The fest had 10 events, of which six were won by the SJC participants. All the participants were from II MA Economics and they emerged as the best contingent in the PG section at Altius... More+

Exhibition of insects a hit with students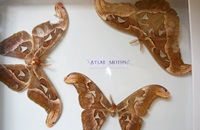 There is a common misconception that all insects are harmful whereas in reality only one per cent of them are dangerous and the rest are useful to humans and for the sustenance of various ecosystems, according to Dr.V.T. Sannaveerappanavar. He retired as Professor of Entymology three years ago from the University of Agricultural Sciences... More+

Panel lauds power of literature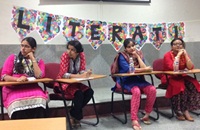 A discussion on the influence literature has in society and how it can empower the citizens was the highlight of day two of the Literati festival at SJC on Wednesday. The student-led panel discussion on 'Literature and social change' was moderated by Dr. Amrita Banerjee and Prof. Gargi Dutta from the Department of English... More+

SJC gearing up for Mediacon 2016


Mediacon 2016, a two-day, national-level seminar on communication and an initiative of the Josephite Media Forum, is scheduled to take place between November 27 and 28 at St Joseph's College.The seminar, under the auspices of the Department of Communication, aims to propagate best media practices and expand the knowledge... More+

Preparations on for Meta festival

The Department of English has begun making preparations for the Meta fest to be held in February 2017. The theme for the fest is 'Over the top' and it aims at bringing back the 'Beaux' tradition. "This is done by exaggeration and stylish use of language and these are the some things that we are hoping to do this year... More+

Exodus 2016 celebrates 'life'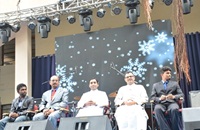 Exodus, the biggest inter-collegiate Gospel fest in the City, saw fewer participants this year than last year because it was pared down from the national-level to the state level.Exodus was upgraded into a national-level festival last year but this year, logistics issues led to it being turned back into a state-level festival... More+

Literati to focus on Mahasweta Devi


The English Department of St. Joseph's college plans to hold the 'Literati' annual commemorative lectures from September 13-16 and the focus this year will be on the late great writer Mahsweta Devi. Speaking to The Beacon, NamrataHareesh, faculty coordinator of Literati said, "Literati, every year tries to honour different artists or writers... More+

SJC bids adieu to Allura 2016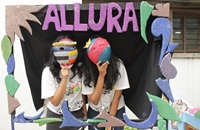 Allura, the national media fest conducted by the Department of Communication ended with a bash on Saturday, with Kristu Jayanti College bagging the overall trophy. The theme for this year, surrealism, was portrayed very creatively. Students of the Department dressed as different surrealist characters like Ryuk and Mad Hatter, and walked around the campus... More+

Behind the scenes of advertising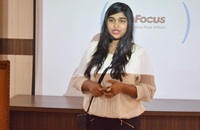 There will be instances where you will not know what something is or why you are doing something; however, while facing these fears and uncertainties is where learning happens, said Sarah Thomas at a workshop held as a part of Allura on Saturday. Ms Thomas, founder and executive producer of STOM Productions... More+

BU takes SJC student in TT team


St Joseph's College has won yet another feather in its cap with Shreyas P Harle of 1st year BCA being selected for the Bangalore University table tennis team for the upcoming academic year. Shreyas has participated in national tournaments and has also won several trophies in state competitions. He was a former student of the SJC Boys' School... More+

Pixels plan a film festival


Pixels, a stu¬dent-driven film club in SJC, is planning a film festival of stu¬dent films as a regular college activity. As a run-up to this, they will be trying to have regular screenings of student films in college. To start with, the club organ¬ized a screening of three short films made by students on Satur¬day last as part of this effort... More+

SJC gears up for Allura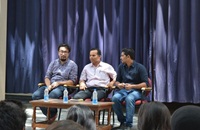 The Allura Fest was launched on Saturday with the theme of "Surrealism", an art movement that emerged in the 1920s which still has relevance. The fest was launched by Johnson Rajkumar, head of the Communication Department in the presence of Rev Fr Richard Rego. According to Mr Rajkumar, More+

Radical changes afoot in PR industry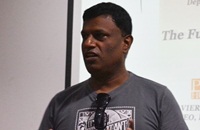 Public Relations (PR) in the 21st century will no longer be traditional but will change entirely and PR firms will turn into content creations and publishing organisations. This was the warning held out by Xavier Prabhu, CEO of a leading PR company, PRHub, in a talk on "The future of PR is not PR' at SJC on Saturday. More+

Fr Lobo declares Pratibha finale open


Principal Rev Dr Victor Lobo on Friday declared Pratibha 2016, the intra-collegiate festival of SJC, by releasing several coloured balloons up into the air at the St Joseph's College grounds on Friday. Addressing the students, he urged them to bring out their best and to make a difference in society. "Prathiba is a platform to showcase your talents," he declared... More+

Cosplay is highlight of Allura 2016

Allura, The trademark fest of the Department of Visual Communication, is being officially launched on August 20. Pavithra Prakash, one of the organizers from 3rd year VC, said, "We have 22 events which include workshops, marketing and PR events, live art, digital art, theatres, photography events which are both offline and online... More+

Just walk, no matter what happens: Sheryl Rebecca

Sheryl Rebecca stole the limelight in the fashion show which was part of the Pratibha intra-collegiate festival contests this year. A student from 2nd MSc Botany, Sheryl surprised everyone when she stepped out onto the ramp despite one of her legs being amputated. She got the loudest cheers for her determination and belief in herself and her abilities. More+

13 in SJC football team

The selection committee for the college football team has selected 13 players who will represent the college at the Bangalore University level in 2016-17. There were around 30 boys from the UG and PG combined who took part in the selection. Of the 30 players, 13 have been selected for the college football team... More+

Botany students win fashion show

Students from six different departments walked the ramp for the fashion contest, the last event of the intra-collegiate festival Pratibha that took place on Wednesday in Xavier Hall. The first prize for the fashion show went to the 2nd MSc Botany students who performed on a mix and match of patterns and colors... More+

Winners of solo dance contest

The individual solo dance contest which was part of the Prathibha intra-collegiate festival was won by Vinay from 1st MSc Maths in a closely-fought contest on Wednesday. The second place was grabbed by Avea from MA Economics and Dikshita from 2nd MA Economics won third place. The competition allowed participants to demonstrate their skills... More+

Botany girls win group dance contest

For the first time in history, the college saw the participation of students of the Mass Communication department in the group dance competition of Prathibha, the intra-collegiate cultural festival, on Tuesday evening. Girls of I and II Mass Comm danced to the song 'Pinga' from the film BajiRaoMastani... More+

Two realities exist in one nation: Fr Lobo

On the occasion of celebrating the 70th Independence Day, St Joseph's College Principal Fr. Victor Lobo SJ drew attention to two realities existing side by side in the country. "There are two realities of our country. One is India and the other one is 'Bharat'. India is educated, literate and good living conditions, whereas 'Bharat' consists of the poor and illiterate... More+

Pratibha contests enter fifth day

Friday marked the fifth day of the Pratibha intra-collegiate fest with students running around to participate in and volunteer for various events. The Extempore debate took place in the UG quadrangle during the lunch break which gave the participants opportunity to play around with the theme of 'Campus'. Rahul Jain from 3rd year, PEM... More+

SJC celebrates Feast of St. Ignatius

The feast of St. Ignatius of Loyola, founder of the Jesuit order, was celebrated on Tuesday with a Holy Mass at 1 pm for all the Catholic students in St Joseph's College in the main auditorium. During the mass, Father Adrian Mascarenhas proclaimed the Word of God, followed by offerings and praise and worship... More+

Mass Communication students go on outreach

Students of II Mass Communication began their one- week-long of outreach programme on Monday to the marginalized sections in select locations in the City. The students are involved in educational and awareness programmes in places like Siddapur slums near Lalbagh, the Christian cemetery and Muslim Mosque in Shantinagar... More+

SJC to host Battle of Bands
St. Joseph's College is all set to stage an intra-college battle of bands for the first time ever. Aurora, as the competition is named, aims to provide a platform for music enthusiasts and band dreamers to get their time to perform before the Josephite fraternity.The event is scheduled to take place during Prathibha... More+

Students compete in several Pratibha contests

The first day of Pratibha, the intercollegiate cultural college fest, started off with a number of events being held at different places around the PG block on Monday. Creative Writing, Potpourri, Painting, Cooking without Fire and Personality were the events that were held during the lunch break around the campus on the first day of Pratibha... More+

Election campaign ends, vote today!

The fiercely con¬tested election campaign for the Student Council came to an end on Wednesday with candidates giving their last speech before the students go to the polls on Thursday. All the three candidates from Post-Graduation, G Chaitra, II MSc. Mathematics, Sachin Chi¬danand, I MSW, and Tunir Guha Neogi, II Economics ... More+

Unpacking Dishonesty and Study Opportunities – An Evening with Dr. Murugesan

Spectrum- a forum for politics and International affairs has been the forerunner for intellectual exchange and insightful academic discourse here at St. Joseph's College... More+

Get Ready to Be Digital Scribes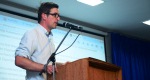 In keeping with St Joseph's College's tradition of solidarity with oppressed peoples over the years, the Master's Department of Political Science organised a discussion ... More +
Reconceptualising Refugee Rights: Appropriating Myriad Avatars.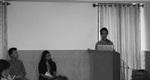 In keeping with St Joseph's College's tradition of solidarity with oppressed peoples over the years, the Master's Department of Political Science organised a discussion ... More +


SJC unit of NSS adopts village

The National Service Scheme association in SJC has adopted Yerappanahalli, a village near Hennur, which includes more than 400 families and has plans for new ventures in the coming academic year 2016-17. More+

SJC upgrades surveillance infrastructure

Thirty five CCTV cameras are being installed in SJC to comply with UGC regulations on surveillance and security and as part of major security overhaul in... More+

SIB tie-up with SJC for smart cards, ATM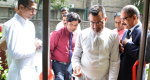 The South Indian Bank (SIB) has given a boon for students and faculty of SJC by providing an ATM just outside the PG Block. Now, SJC folks will... More+

Insights on marketing for Commerce students
St. Joseph's College students were updated on various aspects of marketing in the 21st century at a lecture on Thursday presented by Dr Ajay Abraham, Assistant Professor... More+

Social Zest has grand plans
Social Zest, the association of the Department of Sociology, has planned several events during academic year 2016-17 to create awareness about the need to be educated in Sociology. More+

SJC makes social media debut on Twitter

Making way for 140 character stories to reach students and well-wishers of the Josephite fraternity in real time, St Joseph's College has signed up officially to Twitter... More+

Strident Call to Fight all types of radical exclusion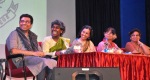 A strident call to fight exclusion in all forms was the highlight of a public lecture on 'Towards Radical Inclusivity' given at the SJC on Tuesday. The guest speaker Dr Smitha Radhakrishnan from Wellesly College, Boston... More+

Inter-class sports events selections from next week
Registration for the inter-class sports tournament for finalising college teams for respective games has begun and the last date to collect forms for the respective tournament is Saturday. Speaking to The Beacon, Lawrence Rodrigues ... More+

Josephites celebrate Dalai Lama's birthday

Josephites gathered together on Tuesday to pay their respects to His Holiness the 14th Dalai Lama. Members of the North East Tibetan Forum (NETF) took the lead to celebrate... More+

Students Queue Up to Throng Blood Donation Camp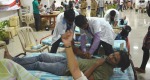 Students from various departments turned up to donate blood at the annual blood donation camp jointly conducted by the National Service Scheme (NSS) and National Cadet Corps (NCC) in the college ... More+

Christian Wagner Talk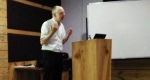 On Monday the 13th of June 2016, the Master's Department of Political Science at St. Joseph's College, Bangalore organised a guest lecture on the changing characteristics ... More+

Men and women must shun gender bias, says activist

On the second day of Ignitors, the non-Catholic PG students of Mass Communication, Political Science and Social Work went through fresh sessions that saw... More+

Well known cartoonist visits SJC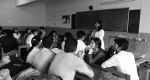 On the second day of Ignitors, the non-Catholic PG students of Mass Communication, Political Science and Social Work went through fresh sessions that saw... More+

Report On Parent Orientation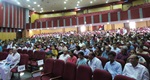 For the first time in the history of St. Joseph's College (Autonomous), the Parents' Council, headed by Dr. Ronald Mascarenhas organised an orientation programme for the parents and guardians of the new students ... More+

Aishani Shetty: Student by day, Celebrity by night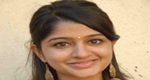 Aishani Shetty's rise to stardom is nothing less than a story from a movie. With an innate desire to act and be a part of the movie industry, Aishani was egged on into the field by her father. "My father was my biggest ... More+

Fresher's face a fresh year

A new batch of 30 Mass Communication (Mass Comm) students, from different backgrounds with diverse ideas and expectations, have joined St Joseph's College for the... More+

Josephite spearheads drive to green Siliguri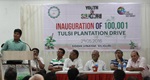 Sailesh Singhal, a Josephite and student of III EMS , has spearheaded with success the dream of a green zone in his hometown of Siliguri. His initiative has led to the planting... More+

Call to fight for the right to dissent

The government and state are finding ways of ending the citizen's basic rights to freedom of expression by resorting to the 'anti-national' ploy was the conclusion reached at a panel discussion held on Thursday ... More+

JNU a metaphor for social justice: Shehla Rashid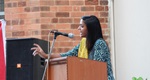 Shehla Rashid, firebrand student leader and Vice President, JNU Students' Union, on Friday attacked the RSS and ABVP, the student wing of the BJP, for contorting facts and branding the students ... More+

Students look to Bernie and Kanhaiya

Parallels were drawn between the ideals behind the campaign by Democratic candidate Bernie Sanders for US presidentship and the national movement solidifying behind Kanhaiya Kumar ... More+

9 secrets of success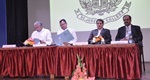 Nine secrets of success were revealed on Tuesday at the valedictory function of 51 associations of SJC by the Chief Guest, Dr Bharath Chandra, Chairman, Winners Institute. The nine secrets as described ... More+

Media critiqued for neglect of Dalits

Media experts on Wednesday castigated media organisations in India for their neglect and marginalization of Dalits both within their structures and the manner in which Dalit issues are reported. At a panel discussion ... More+

Call to progress from productivity to sustainability at ICGTSE 2016

A clarion call to move beyond productivity to sustainability if the needs of future generations are to be taken care of was made at an International Conference on Green Technologies for Sustainable Ecosystems (ICGTSE) ... More+

Workshop on the Constituent Assembly Debates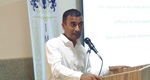 The Spectrum Association for Political Science from St. Joseph's college, organized an interactive session on the 10th of February 2016, wherein students attended a workshop on the Constituent Assembly Debates by Professor ... More+

Need to study journalism discussed at META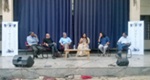 "Journalism is elevated common sense," said Suresh Menon, former editor, Indian Express, speaking during the round table session held on Tuesday as part of META 2016. The panel discussion on the topic Why should journalism ... More+

Christ University tops Nirvaan 2016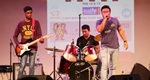 Christ University emerged overall champions of Nirvaan 2016, the two-day, inter-collegiate festival which showcased various forms of art, music, dramatics, dance, fashion and technology. The champions sealed their place ... More+

Record number of contestants at Nirvaan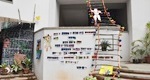 With more than 25 City colleges participating in Nirvaan 2016, the annual two-day college fest of St Joseph's College, the event saw a record number of contestants and large audiences in all the venues ... More+

Nirvaan: City colleges battle it out for fame

Tough contests were witnessed between students from leading institutions like Christ University, Mount Carmel, Jain CMS, and SJCC in the competitive events at Nirvaan 2016, the blockbuster, two-day intercollegiate ... More+

Rhythm 'n' dance at Association Fest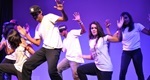 Soulful music and dance performances by various teams and bands of the college enthralled the audience at the Association Fest hence marking its end on Tuesday evening. The programme kick started with the Indian music team ... More+

Tips on climate change survival at Association Fest

Humans must realise that they have a better chance of surviving climate change if they can learn to adapt like orchids and plants that have survived epochal changes on the planet. The call to humanity to adapt... More+

Robotic car avoids obstacles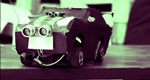 A student of the Electronics Department has developed a prototype of a robotic car that uses sensors to avoid obstacles. The system of sensors, if implemented in cars, will help them avoid crashes and other accidents. More+

K Manikandan's rough road to a hit film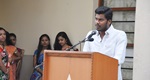 Film director K Manikandan faced several hardships and obstacles, including being beaten up and jailed while filming his award-winning movie Narai Ezhuthum Suyasaritham (Endless). The film, which won ... More+

Legal Literacy Certificate Course: One day Seminar on child rights at NLSIU.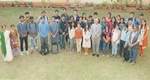 On the occasion of the Republic Day, 26th of January 2016, students pursuing the Legal Literacy course at St. Joseph's College, Bengaluru were in for a treat in the twilight of their course.This being a visit and a day-long ... More+

Ms. Nikita Sharma: You Have Made the College Proud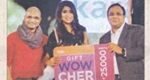 Miss Nikita Sharma, student of III B.Sc. MCZ, St. Josephs College, has made us proud. After a 5 day training programme for the 13 girls who were selected from the whole of south India , Nikita Sharma has won The Title Of MISS VIVACIOUS More+

Capital Punishment: Changing Perspectives and Challenging Popular Notions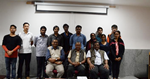 Professor S. Joga Rao enlightened the students of St.Joseph's College, Bangalore on the 11th of January, 2016, with his objective and interactive talk about capital punishment in India. Professor Rao... More+

St. Joseph's College, Bangalore and the Augsburg University,Germany

Spectrum, the association for Politics and International Affairs, department of Political Science, St. Joseph's College, Bengaluru organised an informal discussion with the students of Augsburg University... More+

The Yugantar Conference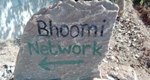 Students of St. Joseph's College began the New Year by attending a two-and-a-half day brain storming session on "Sustainability" at the Bhoomi Network (Bhoomi College) Sarjapur, Bangalore ... More+

Now, wine from Swiss chocolate!

Wine from Swiss chocolate? Of course, say the students of CBBt/CZBt (Chemistry, Botany/ Zoology, Biotechnology) who have found new ways to extract wine from different sources, especially... More+

Explosion of colours, music and dance mark Ethnic Day celebrations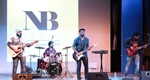 St. Joseph's College was engulfed in colour on Thursday as it celebrated Ethnic Day on the eve of Sankranti, the Kannada harvest festival. It was a feast for eyes as students from different parts ... More+

Change makers Week may be an annual affair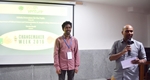 With the Change makers Week 2016 receiving an overwhelming response from the students of St Joseph's College, the institution is planning to make the... More+

'Crusader with a camera' focuses on honour killings

Soniya Kirpalani, a crusader for human rights, is in the process of shooting a film on honour killings in India which highlights the fact that the country does not consider such killings a crime. "Honour ... More+

Entrepreneurship: Run before you crawl

When youngsters aspire to be entrepreneurs, whether commercial or social entrepreneurship, it's like running before you could crawl, according to Aruna Raman, India Programme Director of Acara, ... More+

LinkedIn links students to MNCs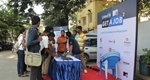 LinkedIn, the social media platform for professionals, has organised a summer internship campaign, in collaboration with 12 mega companies, to provide an opportunity for the students to strengthen... More+

Teach for India turns shame into opportunity

A movement to build a new generation of leaders who will eliminate educational inequality and enable all the children in the country to get a basic elementary ... More+

'Youth far from being tech-savvy'

Even though this is an era where technology is ubiquitous, a large section of the youth are not tech savvy to the detriment of the nation, according to Kavan Ganapathi, a SJC alumni... More+

A feast of mushrooms from recycled waste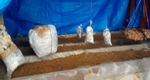 The Department of Biotechnology at SJC is pioneering the recycling of waste to cultivate exotic mushrooms for palates with taste. The project also focuses on the cultivation of species of mushroom... More+

Students queue up to donate blood

The National Service Scheme (NSS) and the Karnataka Red Cross blood bank organised a blood donation camp at SJC on Friday with the aim of encouraging... More+

Fight for LGBT rights an uphill task, say activists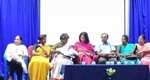 Human rights activists came out strongly against the denial of basic rights in the country to persons belonging to the LGBT community. The activists also criticised the rising intolerance and injustice... More+

Learning made fun the Hindi Parishad way

There were charts, posters and tableaus galore at the Hindi Parishad's literary fest with the students breaking fresh ground by presenting their learnings ... More+

Eminent Scientist-2015

On 21st December 2015, Dr. Jayarama Reddy Associate Profeesor at St. Joseph's College, was presented with "Eminent Scientist-2015" award by the Honourable Cabinet Minister Sri. Surendra... More+

Sharing of Christmas Joy with HIV Infected Children

Christmas is a time for love, fun and sharing. During this time we receive gifts from a lot of people. But this year, JOSEPHS AIDS AWARENESS MOVEMENT, ... More+

Tis the season to celebrate MAGI in SJC

It's December and that can only mean one thing – It's time for MAGI 2015! Organised by the Christian Students Association, this year's annual 5-day inter-class Christmas fest MAGI ... More+

JAAM organises first Flea Market for Xmas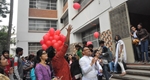 Joseph's Aids Awareness Movement (JAAM) in association with the Students Union organised SJC's first Christmas Flea Market, from 14 December to 18 December. Stalls are put up... More+

Understanding Relevance of Mental Health Illness in today's Society

International conference that is intended to create awareness about mental health illness and the prevailing misconceptions about the same is being conducted at SJC on Friday and Saturday. More+

No individual has a right to inflict pain on anyone: Mathew Philips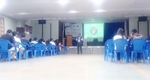 In commemoration of International Human Rights day, NSS (National Service Scheme) organised various session to educate students about basic Human Rights on Thursday. More+

NSS organizes 'Repeal AFSPA'

Students from NSS observed a day long fast to extend their support to Irom Sharmila who has been on hunger strike from November 2000 to repeal Armed Forces... More+

Bengaluru Bulls train at SJC campus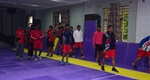 The Bengaluru Bulls kabbadi team will be training in St.Joseph's College (Autonomous) till Dec 15 in preparation for the next season of the Pro Kabbadi League which will be held on the January 30... More+

NSS organises talk on legalities of LGBT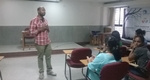 As part of the Human Rights Week, NSS organised a session on Lesbian Gay Bisexual and Transgender (LGBT) Rights led by Gowthaman Ranganathan, part of litigation team at Alterna-tive... More+

Play Learn Change -'Arivu Disha' arrives at SJC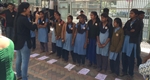 Around 400 students from various government schools across the state gathered at St. Joseph's college as a part of Tackle fest held at the college campus by Headstreams... More+

Dr. Guha addressing the gathering Spectrum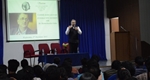 Dr. Guha addressing the gathering Spectrum, association for Politics and International Affairs Department of Political Science, St Joseph's College organized an interactive session with Dr. Ramachandra ... More+

A French toast at Decouvrir La France

With an aim to represent France and French culture, Decouvrir La France (Discover France) fest was held on Friday. In the view of the recent terror attacks on Paris, two minutes of silence... More+

Benny Prasad Entertains SJC

Benny Prasad, Guinness world record holder for being the world's most travelled musician, performed in the College Chapel on Thursday. The musician performed for... More+

Historian Ram Guha interacts at Spectrum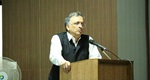 Noted Indian historian and writer Dr Ramachandra Guha was invited for a talk by Spectrum, a forum the Department of Political Science here on Wednesday. Dr Guha is the managing trustee ... More+

SJC's 10th year of Autonomy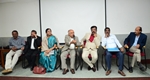 The 10th year of SJC's autonomy was reviewed by the expert committee from Bangalore University on Wednesday. The committee headed by Vice Chancellor Dr Thimmae Gowda and Dr Seethamma, ... More+

English Department Organizes School-Edition Meta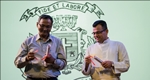 The school-edition of Meta, the literary fest organised by the Department of English, saw a number of enthusiastic participants from around the city. Children... More+


Faculty Enrichment Programme. [FEP]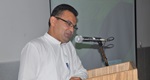 The Faculty Enrichment Programme was organised on 19th and 20th of November for the new faculty of St. Joseph's college. This programme is an initiative by the Centre of Excellence... More+

Public Interest Journalism Leads to Solution

Public Interest Journalism leads to solution, said V K Shashikumar, ex-Senior Editor, CNN-IBN, during a guest lecture on investigative journalism on Monday. The students of the... More+

Jospehites 'Cyclo-Walk' for gender equality

For the first time in south India, the Student Council of St. Joseph's College (SJC) organised a rally campaigning for gender equality on Sunday. HeForShe CycloWalk, as the event was named, was conducted as part ... More+

SJC cyclists cycle to protect Ozone Layer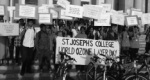 On the International Day for the Preservation of the Ozone Layer', the students of St. Josephs College (SJC) held a cycle rally to create and spread awareness among the public on Wednesday. More+

Students outreach programmes a must for 1st PG and UG students

Students outreach programme has been made compulsory for the first year UG and PG students of St Joseph's College. Fr Rector Brian Pereira announced this while addressing More+

MSEs future of economic growth: Dr. Mahadeva

"The timeliness of finance provided to the MSMEs are disproportionate to the amount of output and revenue these industries generate", said Mr. Keshhav Savekar More+

Make maximum use of the facilities available: Kirmani

"Make maximum use of the advanced facilities available to grow in the field of sports," advised Syed Kirmani, former Indian cricketer and selector.
The alumnus of St Joseph's Evening College More+

Physics Department conducts state level seminar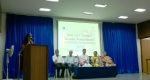 A two-day state level seminar on "Science from Space- New Findings and Challenges Ahead" sponsored by the Indian Space Research Organisation (ISRO) ... More+

Be a PR Superman: Jyotsna Murthy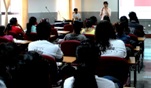 "Work well-crafted to differentiate yourself from the others to be a Public Relations (PR) superman," said Jyotsna Murthy, speaking to the attendees of Allura 2015, conducted by the Department of Communication.
General Manager for Corporate Communications... More+

'Allura' 2015 inaugurated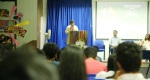 'Allura', a Media Fest hosted by the Department of Communication, St Joseph's College (SJC) was inaugurated on August 31 at the Under Graduate quadrangle. More+

SJC Celebrates Teachers Day

The students of St Joseph's College celebrated Teachers Day in the UG quadrangle at 1pm on Friday. There were over 200 people gathered for the occasion, including teachers and students. More+

IIJNM wins Great debate at SJC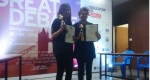 St Joseph's College (Autonomous) hosted The Great Debate organised by the British Council at Xavier Hall on Friday. The debate attracted many participants from Mount Carmel College, St Anne's College,... More+

Passion for Learning should not end, British Council Asst Dir.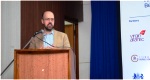 "Passion for learning should never end. We should encourage students to read more. Learning contemporary things will help in building mental charisma,... More+

Social Impact at a Grass Root Level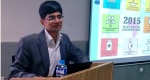 Managing time, building teams, and being sensitive to global issues is an integral part of learning and development for students at undergraduate level. More+

Onam Festivities Gallore at SJC

Students at St Joseph's College celebrated Onam, festival of Kerala. A huge crowd of students sang and danced in their traditional way at the Undergraduate (UG) block on Thursday. More+

Articles are Cultural Artifacts - Mr. Varghese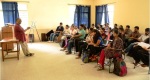 "Prevention is better than a law suit," said AV Varghese, News Editor, Deccan Herald student edition, talking about the importance of editing, on Wednesday. In an interactive session... More+

CSA crowned Exalted champions

In a landslide victory at the annual Gospel fest Exalted, organised by Bishop Cotton's Women's Christian College, the Christian Student Association (CSA)... More+

AICUFers urge people to vote

All India Catholic University Federation (AICUF) organised a student rally urging students and citizens to vote in large numbers in the BBMP elections. The objective of the rally was to create... More+

Hindi Parishad Plans for Upcoming Hindi Divas

The Hindi Parishad of St Joseph's College has planned to conduct various programmes for Hindi Divas, which is to be observed on September 14. The executive committee mem bers and volunteers sat together...More+

Lucia director inaugurates Rushes

Being a director and making a successful film is all about managing your team and finance, said Pawan Kumar, director of the film Lucia, while inaugurating ... More+

'Smiling Jesuit' passes away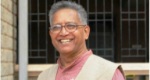 Fr Ronnie Prabhu was the former Rector of St Jospeh's College (SJC) Former Provincial of Karnataka Jesuits, Fr Ronnie Prabhu, passed away due to terminal illness ... More+

Principal Stresses on 'Three H' of Education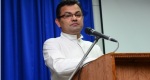 Education is all about character building and discipline, and that was shown and emphasised by Dr Fr Victor Lobo, Principal, St Joseph College, in his address to the first year students ... More+

BU Reviews Autonomy to SJC

An expert committee of Bangalore University (BU) visited St Joseph's College (SJC) for the review of autonomy in the last five years, on Tuesday. The main objective of the inspection was to evaluate... More+

BU holds an inspection at SJC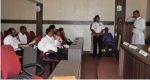 A panel of Bangalore University (BU) officials visited the College campus on Tuesday to inspect the recently introduced Commerce course in the College. The criteria for inspection included... More+

Prof. Singh Discusses India - Myanmar Borderland Issues

The postgraduate Department of Political Science organised a lecture by Prof. M. Amarjeet Singh, Jamia Millia Islamia University, on... More+

Students Enjoy Day Two of Pratibha Festivities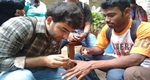 Students in the Undergraduate and Post graduate campus were busy making food, applying mehendi and trying their hands at nail art. More+

NCC Cadets Hone Combat Skills through Paintball

The National Cadet Corps (NCC) of St Joseph's College organised a one-day workshop on war strategies near Bannerghatta on Saturday. The workshop aimed... More+

Dr. Vinekar wows Josephites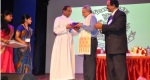 "The greatest tragedy of life is not death but when you lose your hopes, dreams and ambitions when you are alive," said Dr Sudhir L Vinekar, consulting ... More+

NSS carnival raises funds for social cause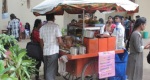 "The greatest tragedy of life is not death but when you lose your hopes, dreams and ambitions when you are alive," said Dr Sudhir L Vinekar, consulting ... More+

SJC Top User of Inflibnet Library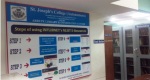 At a time when journals and research articles are becoming expensive and students are accused of losing interest in reading. St Joseph's College has emerged as the top user of Inflibnet library... More+

CSA prayer service unites students at College Chapel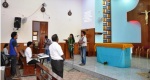 First prayer service by Christian Students Association (CSA) for this year held on Thursday at College Chapel was attended by students from several religion and communities. More+

Police best to wipe out tears: Sangliana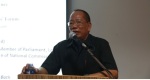 Police service is the best service to serve society and wipe out tears from people's eyes," said Dr H T Sangliana, Vice Chairman of National Commission for... More+

Students Sensitised To Gender Issues through Art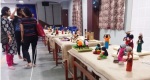 The Dolls Speak', an art exhibition conducted by the Gender Sensitisation Cell of the College showcased the works of Sr Francoise Bosteels in Xavier Hall ... More+

Kannada Sangha Celebrates 125 Years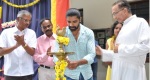 Kannada Sangha, an initiative to promote Kannada in St. Joseph's College, marked its 125 years of establishment on Friday.
The Kannada Sangha... More+

Student Council Assumes Charge

The newly elected Student Council members took the solemn oath of office on Friday in the College auditorium. Fr Clarence D'Souza, officiating Principal, administered the oath to the Council members. More+

Social Work Students Bond over Social Evening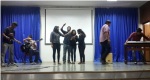 The students of Social Work department had a get together for their social evening on Monday. The two hour program comprised of nearly 18 performances by II and III BSW and II MSW. More+

NETF Celebrates Dalai Lama's 80th Birthday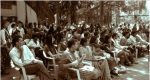 The 14th Dalai Lama, Tenzin Gyatso's 80th birthday was celebrated in the campus today by the North Eastern and Tibetan Forum members (NETF).
"The best gift I could receive from you all... More+

Blood Donation Drive Held In Campus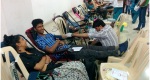 The annual blood donation drive was held by the National Cadet Corps (NCC) and the National Service Scheme (NSS) in association with the Lions Club of Bangalore... More+

Tweet, blog and read regularly: Amith Prabhu

You cannot be good communicators if you don't tweet, blog and read books regularly, said Mr Amith Prabhu, a Public Relations (PR) professional during his interaction with the Post Graduate students of the Department of Communication on Monday. More+

BNI Addresses Key Issues on Mental Health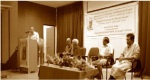 Basic Needs India (BNI) in their very first collaboration with the Department of Social Work held .their third memorial event in memory of late D.M. Naidu, here on Saturday. More+


Memories of Emergency revived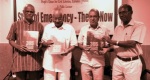 On the 40th Anniversary of the imposition of Emergency, the People's Union for Civil Liberties, Karnataka (PUCL-K) organised a public lecture on 'State of Emergency – Then and now' in Loyola Hall on Thursday... More+


The way you conduct yourself speaks of your upbringing: Dr Beatrice Sequiera

After attending four days of orientation at St Joseph's College (SJC), a team of Mass Communication freshers interacted with Dr Beatrice Sequiera, Vice Principal (PG Block), on Friday about the importance of good conduct... More+


PSA elects office bearers, discusses future plans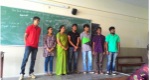 The Physics Students Association (PSA) held its first meeting of the academic year where the Office bearers of the association were elected. The meeting was presided over Prof. Dr Veena Adiga... More+


Dr. Murthy Discusses Origin of Life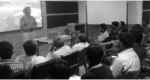 Origins of life were discussed at 'Ices of the universe', organized by chemical society an association of the Department of Chemistry on Wednesday for both Undergraduate and Postgraduate students. More+


Fourth IOCES International Conference Discusses Education for Peace and Development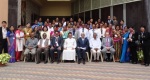 Education, peace, harmony, development, challenges, responsibilities, culture, curriculum, policies - these were the terms and expressions that echoed at the 4thIndian ... More+


Students gear up for upcoming exams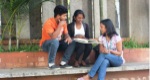 With the end semester exams due to begin on April 1, both Undergraduate (UG) and Post graduate (PG) students are busy preparing notes and studying.
The library has plenty of students gathered around book shelves and computers. More+


College bids farewell to outgoing batches

The farewell ceremony for the graduating students of the Undergraduate batch of 2012-15 and Post graduate of 2013 - 2015 was held at the College auditorium on Friday. More+



Green Peace India celebrates Delhi Hight Court's verdict in favour of Priya Pillai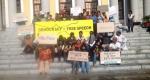 In Indian democracy we have the right to dissent and one should never compromise on the freedom of speech and expression, said Vinuta, Green Peace activist, while addressing ... More+



Footprints Showcases Northeastern States

The North East and Tibetan Forum (NETF) organized their annual fest Footprints 2015 on Saturday, despite heavy rains playing spoilsport. The event sought to... More+


Debate on Saleability of Humanities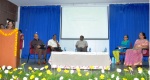 The Masters programme of Department of Political Science, St Joseph's College (Autonomous) Bangalore in collaboration with the Post Graduate Research Center organized a Post Graduate... More+


Today's Media Reflects Society: Bharat Lal Meena

The present day media carried news with a negative angle and reflected the society, said Mr Bharat Lal Meena, Principal Secretary of Higher Education, Government of Karnataka... More+


Talent and Creativity Merge at Singularitas Exhibition

With festivity comes a show of talent and colours. Photographs and scientific exhibits were the main attractions of the academic festival Singularitas which began on Friday. More+


Students Interact With Directors of 'Films of Resistance'

"The role of films is to trigger debates," said Amudhan R P while interacting with the students after screening his documentary Seruppu at Bird Song, a two-day film festival... More+



III BCA Knocked Out By II PMC in First Round of Boys' Football

II PMC emerged victorious in the first round ofvthe inter-college boys' footballvmatch, after they beat III BCAv3-2 in a penalty shootout with the scores ... More+



Students Recommend that UN Focus on Poverty Alleviation

Students from 10 colleges across Bangalore demanded that issues such as sustainable management and availability of water, equitable quality education and resilient infrastructure be ... More+


Dr. Cheriyan Discusses Satire and Allegory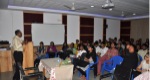 The idea of satire is to cause offence as a way of disturbing complacency, Dr Cheriyan Alexander said while delivering a talk on 'Satire and Allegory as Modes of Cultural and Political Resistance'. More+


Holy Mass Conducted to Commemorate Ash Wednesday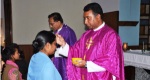 The Holy Mass for Ash Wednesday was held in the College Chapel on Wednesday. The main celebrant for the Eucharist was Fr Clarence D'souza, Vice Principal of Humanities. More+


Prominent Colleges Emerge as Champions in Sportstakes

The finals of the exciting three daysports fest Sportstakes came to an end on Thursday. St Joseph's College (SJC) won the football tournament, St Joseph's College of Commerce(SJCC) clinched the throwball ... More+


Sports takes unites Sports Teams from across the City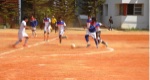 The three day inter-collegiate sports fest, Sports takes, hosted by St Joseph's College kick-started on Monday. A three day sports fest consists of tournaments ... More+


North Eastern Students Come Together to Exhibit Their Culture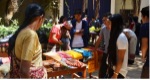 The Northeast and Tibetan students' forum organised an exhibition on Monday to make students aware about their culture and traditions.
The fest exhibited clothing, jewellery, and musical... More+


Social Activist Discusses Issues of Sex Trafficking and Rehabilitation

"There is always confusion between sex work, sex workers, prostitution, and human trafficking. Creating a clear distinction between these jargons is what I work for everyday (sic),"... More+


Indo Afghan Relations in a Changing World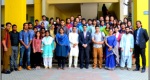 Guest lecture on Indo-Afghan Relations in a Changing world – The Way Forward, By Mr. M Ashraf Haidari, Deputy Chief of Mission
(Minister Counsellor)... More+


SJC Celebrates International Student's Day

"If Education is not affordable to people, then we cannot expect a positive change in the society," said Mr A Sabarullah Khan, Deputy High Commissioner... More+


Two Day State Level Seminar on Electromechanical Concept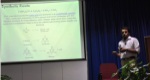 "Electrochemical studies is a primitive subject but due to the advancement in technology there is a new interest in the subject," said Professor Dr Vijaya Kumar Reddy, Department of Chemistry... More+


Economics Seminar on Issues of Gender, Nutrition and Migration

Gender, nutrition, and migration were the key topics of discussion at the seminar on 'Human Capital Formation: Issues and Challenges' on Tuesday. The seminar was hosted by the More+


Prominent Authors Featured Their Book on Ninth Day of Meta

On the ninth day of the ongoing literary festival Meta, conducted by the Department of English, prominent authors S Giridhar and V J Raghunath, eminent ... More+


College Bids Farewell to Belgium Students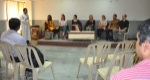 Students from theUniversity of Namur had an emotional farewell at Loyola hall on February 6.
The six students and their teacher, Mr Benjaminwere here... More+



Economics Dept. Holds National Seminar on Human Capital Formation

Issues facing educational institutes and the higher education system in India were discussed in a UGC sponsored national seminar, organised by the Department of Economics on Monday. More+


Twelve days of 'laughter and irreverence' begin at Meta

The third edition of the literature fest, Meta, conducted by the Department of English was inaugurated on Monday. A number of competitions and panels were held around 'laughter... More+



Former Ambassador sheds light on Indo-China relations

India's status as a booming economy and the challenges it faces from China were the focus of a guest lecture on 'India in a changing Asia' by C V Ranganathan, former Indian Ambassador to France and... More+


MS Comm wins inter-class cricket tournament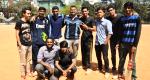 Students of Mass Communication scored a resounding victory in the boys' inter-class Cricket tournament finals, despite a massive half century by Amos S of II BCA here on Saturday. Alin hit a huge six to seal a... More+



Folk dancers entrall audience at Pongal celebration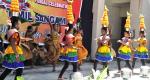 Popular folk dances of Tamil Nadu were performed on Saturday as the Tamil Sangam celebrated Pongal on campus. Mr Prabhakaran, scientist at Defense Research and Development Organisation... More+


Prominent companies visit College to offer summer internships

Over 160 students registered for summer internships to 12 prominent companies as part of a recruitment event held at the Undergraduate quadrangle on Thursday. More+



India-Afghanistan relationship discussed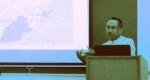 In order to explore India's relationship with its neighbours, the Post Graduate Department of Political Science conducted a talk on 'Peace process in Afghanistan' and 'India Afghanistan ... More+


Mathematics enthusiasts organised a seminar for students
In an effort to make mathematics more interesting, the Abacus Club, an association of the Department of Mathematics organised a talk on 'Mathematically modeling the public distribution system' on Wednesday. More+



SJC football team moves closer to the quarterfinals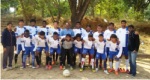 The College football team qualified for the quarterfinals in the ongoing football tournament organised by Presidency College on Wednesday.
The College team played against the host team securing a... More+

St Joseph's College celebrates Republic Day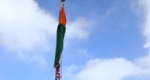 In order to build the spirit of patriotism, the 66th Republic day was celebrated in the College on Monday. The national flag was hoisted by Fr. Praveen Martis... More+



Two day poster exhibition promotes anti-communalism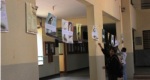 In memory of Gandhi's assassination, the Karnataka Communal Harmony Forum is organising a poster exhibition till Wednesday. The exhibit features excerpts of Gandhi's writings published... More+



College Fest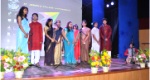 Nirvaan, a word which means to rise from the ashes, was launched as the new name of the College's cultural fest on Friday. The day was also celebrated as Ethnic Day, with students donning ... More+



Kannada Sangha Commemorates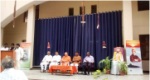 Swami Vivekananda was a great man. His deeds have inspired many; he is an icon for the youth of the country," said Dr Fr Praveen Martis, Principal, St Joseph's College in a programme hosted ... More+



AICUF Holds Meeting

All India Catholic University Federation (AICUF) conducted a meeting on Tuesday to discuss the plan of action for a three day social work programme which will be held from January 24 to 26. More+



Girls Battle it out on the Third Day

II CEB/Z defeated I PCM, and III BCA lost to II MCZ on the third day of the ongoing interclass cricket competition on Tuesday. The first match saw the III BCA girls set up a target of 54/1 in five overs. More+



Panelists Discuss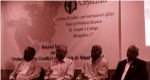 Various perspectives of the topic 'Understanding conflict and crisis in West Asia' were brought to light in a panel discussion held on Tuesday. The panelists for the event were... More+


Interclass Cricket Tournament Progresses Slowly

On the second day of the ongoing interclass cricket tournament, I EPS and MS Communication Progressed to the second round of the competition. While I EPS defeated III BCA ... More+


III BCA triumphs over PCM in the girls volleyball finals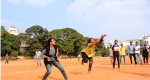 The final of the interclass volleyball tournament for girls was held between III BCA and II/III PCM on Wednesday, with the former emerging victorious.
Both the teams put up... More+



CSA features a student worship leader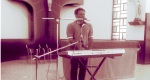 For the first time this academic year, the Christian student Association (CSA) introduced a student to lead worship. The theme for the CSA fellowship this week was... More+



Dr Benny Prasad, inaugurates Humanitas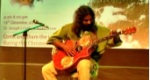 Dr Benny Prasad, the first person to travel to over 245 nations within the shortest time span of six years, six months, and 22 days and enter the Limca Books of Records... More+


German wave sweeps across campus

Deuktschewelle (meaning German wave), the association of the Department of German, organised its first annual fest, Zimstern on Friday.
The fest was inaugurated by Dr Fr Praveen Martis... More+


Sexual minorities are not given opportunities: Akkai Padmashali

The second day of the International Conference on 'Higher Education in 21st century: Challenges and Opportunities' was held at the College auditorium on Friday. The event had four sessions with six panelists. More+


Magi week brings in the Christmas spirit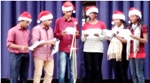 The Christian Student Association held an intracollege carol singing competition on Friday. Seven teams participated and sang different arrangements of some traditional and new carols. More+


A game of words by the Chemical Society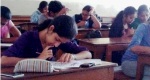 What is a four letter word for hydrated iron oxide? Such questions and many more were part of the chemistry crossword competition. The Chemical Society [...] More+



International Conference on higher education, Opportunities and challenges

The Department of Social Work and the Department of Psychology in association with the College of Education and Public Service, Saint Louis University, USA is organising a two-day... More+


Department of Environmental Science Gears Up For Their First Fest

For the first time, the Seasons Nature Club (SNC), an association of the Department of Environmental Science will be hosting their very own fest, Enviro. The fest will be held on Saturday... More+


Kung Fu to make entry at St. Joseph's College

After training for more than eleven years in martial arts and acquiring a black belt in karate, Alwyn D'Souza, I MA Political Science, is all set to introduce... More+


Solidarity in hunger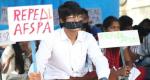 The National Service Scheme (NSS) of the College on Monday, created awareness by means of extending solidarity to victims of North-East India, for the repeal... More+


IQAC holds induction programme for new staff

To address the need of quality and commitment for excellence in education, the Internal Quality Assurance Cell (IQAC) organized an induction programme... More+


Activist urges students to make a dent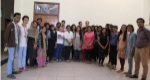 "I am an activist and I am proud of it," was the message from Rashi Jauhri, the Deputy Program Director of Students for Free Tibet, an organization fighting More+


NSS creates awareness on World Disability Day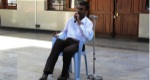 As part of the Human Rights Camapign, the Department of National Service Scheme (NSS) celebrated World Disability Day on Wednesday. An More+



Human rights week continues with unabated support

In keeping with the effort to bring out social issues that are relevant to the youth, the human rights campaign organised by the NSS held a vigil at Town Hall on Monday evening. More+


Students rehearse marching for upcoming Sports Day

In preparation for the forthcoming Sports Day, students from both Postgraduate and undergraduate staged a rehearsal march-past at the College grounds on Tuesday afternoon. More+


Scholars, students throng Mediacon; discuss media challenges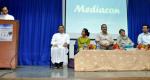 Mr. Sugata Srinivasaraju, Editor-in-Chief, Vijay Karnataka, inaugurated Mediacon, a two-day national conference, at a glittering event at the Xavier Hall on November 27. Ms Sevanti Ninan, Editor, thehoot.org... More+


Royal finish to Mediacon 2014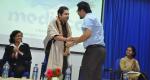 One should always try to be a journalist first and not a reporter, said Pradyot Bikram Manikya Deb Burman, Head of the Royal Family of Tripura and editor of The Northeast Times, the Chief Guest... More+


Deputy Secretary of UGC Addresses Teachers

Secondary education in India is at a deficit of funding when compared to primary and higher education said Dr Shakeel Ahmad, Deputy Secretary, University Grants Commission (UGC) in... More+


SJC Holds 12th Governing Body Meeting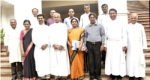 The 12th Governing Body Meeting of the College discussed about making infrastructural changes and introducing new courses in the next semester.
The Governing Body Council of 14 members also focussed on... More+



Department of Communication Celebrates International Media Ethics Day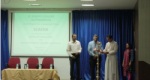 On the occasion of International Media Ethics Day, the Department of Communication in association with the Center for International Media Ethics organised 'Saena', a seminar on social media, social .... More+



Social Zest Brings Together Cultures with a Food Fest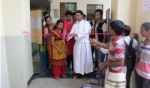 Social Zest, an association of the Department of Sociology organized a food fest which was inaugurated by Dr Fr Praveen Martis, Principal on Friday. He was accompanied by Dr Berin Lukas, Head.... More+



Hunger Know More: An Awareness Campaign by World Vision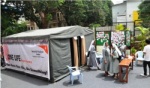 Humans need to eat. However, there are a lot people who don't have enough to eat. This problem is called "hunger". The Bachelor of Social Work (BSW) along with World Vision... More+


Hindi Parishad Celebrates Hindi Divas

The Hindi Parishad on Thursday celebrated the Hindi Divas with a tagline, seekho aur sikhao Hindi, jan jan tak phailao Hindi, at the Undergraduate Quadrangle focusing on the importance of th ... More+


Lecture on Plant Taxonomy Enlightens Students

The Department of Botany organised a lecture workshop on 'Plant Taxonomy' on Friday. Principal Dr Fr Praveen Martis, inaugurated the event which will be held for two days. More+


Students Present Their Suggestions at IQAC Meeting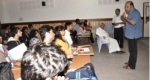 The first Internal Quality Assurance Cell (IQAC) meeting of the year to discuss plans for the betterment of College facilities was held on Friday. The IQAC with its prime motto of 'infrastructure... More+


Talk on Atrocities against Christians in Iraq

Social activist T.J Abraham addressed students about the atrocities perpetuated against Christians in Iraq in a talk on Friday. The event was organised by the National Service Scheme (NSS)... More+


College dance team featured in music video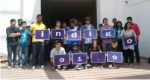 A five member crew from the popular radio station, Radio Indigo, shot a music video featuring the College dance team on Wednesday. The video seeks to showcase the talents of the youth in... More+


Teams Fight for a Spot in the Kabaddi Semi-Finals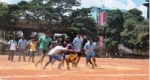 As part of the ongoing kabaddi tournament, the quarter final matches in the boys' category were held between III EPS and II HEP, and III BCA and III PCM. More+


Allura 2014 winds up with cheer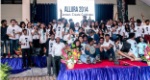 St Joseph's College bustled with energy as over 200 students from different colleges across the country took part in Allura 2014, a media fest held by the Department of Communication on September 5 and 6.
More+


CRY conducts photo campaign on child labour

Child labour is a sensitive issue in our society. Child Rights and You (CRY), an NGO, organised a photo Campaign called 'Click Rights' to bring forward various depictions of child labour. The Department... More+


Inter - class kabaddi match sees III PMC defeat III BCA by one point

The inter-class women's Kabaddi tournament which was held by the Department of Physical Instruction at the college grounds on Tuesday saw a close 1 point victory by III PMC against III BCA. More+



'Connect, Create, Celebrate': Allura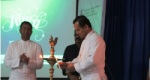 Allura, the media festival of the Department of Communication was inaugurated by Dr Fr Praveen Martis, Principal, Dr Fr Richard Rego, Head, Department of Communication and the chief guest... More+



Teacher's celebrate their day with splendor

The quadrangle witnessed a fun filled Teacher's day celebration which was organised by the Student Council for the faculty members on Friday.
The teachers from all departments were invited... More+



Eight Day Inter - Class Kabaddi Tournament Begins

The inter - class Kabaddi tournament organised by the Department of Physical Instruction began on Wednesday. The competition began with a minor setback as the scheduled match between I HEP... More+



Workshop on performing arts held for B.Voc. Students

A dance and expression workshop was held for the B.Voc. Students on Wednesday. The lecture was conducted by Ms Maja Drobac, owner of the dance company Rhythmotion in...
More+

Essay Competition Encourages Writing on Contemporary Issues

An essay competition was organised on Tuesday as part of the week long fest conducted by the Kannada Sangha, an association of the Department of Kannada. The fest aims at promoting young... More+



Exodus Unites Students to Celebrate Gospel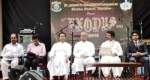 The Christian Students Association hosted the 27 edition of Exodus, the annual intercollegiate fest from August 30-31. The theme that was celebrated this year was 'Amore', meaning love. More+



Josephite Makes a Giant Leap in Space Research

The encouragement provided by St Joseph's College results in commendable achievements by Josephites like Disha P. Kapasi, an II M. Sc. Physics student. More+



WACC Conducts Inter-College Fest WILD 4.0

The Wildlife Awareness and Conservation Club (WACC) conducted an inter-college fest, Wild 4.0, on 25th August. The event was inaugurated at Xavier's Hall. More+



Final Day of Pratibha 2014 Held With Fanfare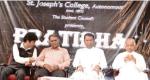 The five-day-long fest Pratibha 2014 concluded amist much fanfare. Final rounds for Indian and Western group song, beat boxing, Indian and Western group ... More+



Throw ball semi - finalists battle it out

Aug 19th, 2014
Candidates contesting in the Student Council elections began their campaigning on Tuesday. There are 30 students who are... More+


Debate sparks off a question on 'dignity vs morality'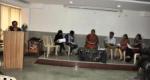 Aug 19th, 2014
The very mention of the term 'prostitution' triggers a moral conflict in some Indians. The second debate of the Josephite Media ... More+


'Fresher's Quiz' witnesses big turnout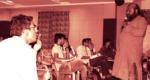 Aug 14th, 2014
A 'Fresher's quiz' was organised for the first year Undergraduate and Post Graduate students of the College by the Quiz Club on ... More+


Pratibha 2014 inaugurated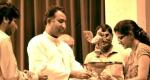 Aug 14th, 2014
The Student Council organised the inaugural ceremony of the College cultural fest Pratibha 2014 at the quadrangle... More+


Food fest held to raise funds for Allura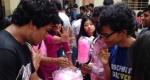 Aug 13th,2014
A 'Fresher's quiz' was organised for the first year Undergraduate and Post Graduate students of the College by the Quiz Club on ... More+


Winners of Ignatian Week felicitated

Aug 13th,2014
It was an exciting day for the winners of the Iganatian week as they received their prizes from Principal... More+


CSA preps for Inter-Collegiate fest Exodus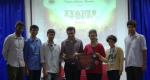 Aug 12th,2014
The poster and the invites for the annual inter-collegiate fest Exodus were launched by Prof. Kiran Jeevan, staff coordinator of the... More+


Japanese delegates promote anti-nuclear campaign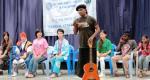 Aug 12th,2014
The poster and the invites for the annual inter-collegiate fest Exodus were launched by Prof. Kiran Jeevan, staff coordinator of the... More+


Fr Clarence retires after 31 years of service as Vice Principal
Aug 8th,2014
Fr Clarence D' Souza SJ retired after a 31 year term as Vice Principal on July 31. He is the longest serving Vice Principal across all Jesuit institutions in India. More+


Glimpses of Hiroshima-Nagasaki exhibited through a collage
Aug 8th,2014
The NSS volunteers on Thursday, aimed to create awareness about the infamous nuclear bombing of the Japanese cities through a collage to commemorate 'Anti-nuclear Day' on August 6 and 9. More+