Josephites' bag 2nd prize at the Basel Mission

St. Joseph's college (SJC) bagged second prize at the Basel Mission choir competition held at Townhall on 2 December, 2017. "Basel Mission was the first competition for the whole choir. It did not happen last year. So the present second years in the choir didn't know how it's going to be. So when they hit the stage the whole atmosphere changed and it was nail biting I can say" said Febin Wilfred, conductor, college choir.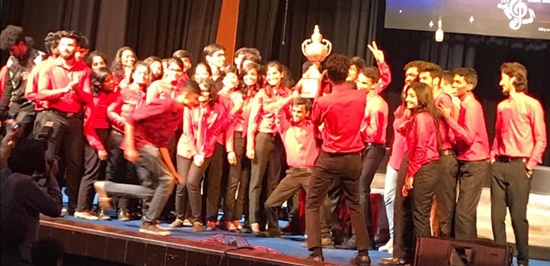 Basel Mission is an organisation that conducts Christmas carol competition every year, where different choir groups participate including children's choir, institution etc. " The Josephite choir do not sing to win, we just want to perform, sing our hearts out and feel happy", says Natasha

Rodrigues, student and member of Josephite choir. She also added that "whether we win or lose, we are always together because at the end of the day how we feel after singing only matters and not about winning or losing".

The Josephite choir consisting of almost 75 students, performed three songs on Saturday night. The student conductors of the choir were Febin Wilfred, Irene Sandra and Evangeline Philip. Josephite choir is a student-run choir group in SJC. The mentor of Josephite choir mentioned about Humanitas 2017, an annual choir competition organised for a cause. It is raising fund for charity, keeping in mind the message of Christmas season. The message of Christmas is all about caring, loving, sharing with each other. The Humanitas will be organised on 15 December,2017 at 3pm and will have more than 12 renowned choir group from the city participating.
Back