SJC to offer certificate course in Bharatanatyam

The Department of Social Work at St Joseph's College is offering with a certificate course in the dance form Bharatanatyam. It is a 3-credit course spanning 90 hours. The fee structure of the course is different for the students of SJC and those from outsider. SJC students desirous of joining this course have to pay Rs. 6000 and students from other colleges and others have to pay Rs.10, 000 for it.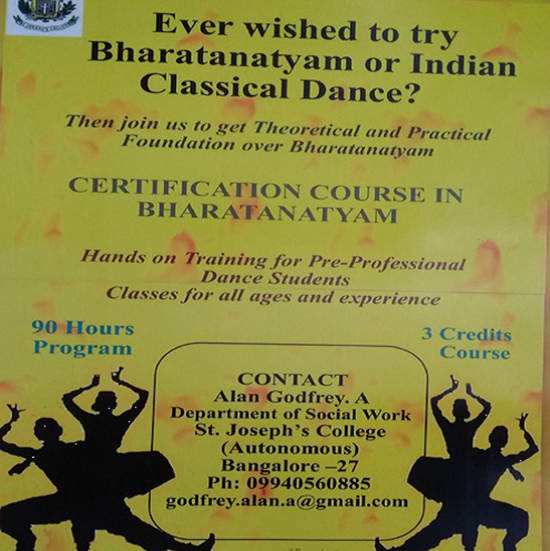 The classes will be conducted on Saturdays for two hours, from 2 to 4 pm. The timings for the week days are yet to be finalised. People of all ages and experience are free to join the course.

Prof. Alan Godfrey from the Department of Social Work will be teaching the course. He said "The beginning date for the course has yet to be decided by the college. But it will start in August itself." One can apply for the course by contacting Prof. Alan Godfrey by calling him on 09940560885 or mailing at godfrey.alan.a@gmail.com.
Back