'Bhoomi', 'Push Cart' & 'Tremors' bags top awards: RNFF

The second edition of the Rushes National Film Festival 2018 (RNFF) ended with much enthusiasm and energy as it showcased 27 short films from across the country. Out of these films, three were animated films. On the last day of the festival, the film 'Kahi' directed by Arvind Sastry was screened, after which the students engaged in an interactive session with the director himself. After the intense discussion, the much awaited prize distribution ceremony commenced in the afternoon.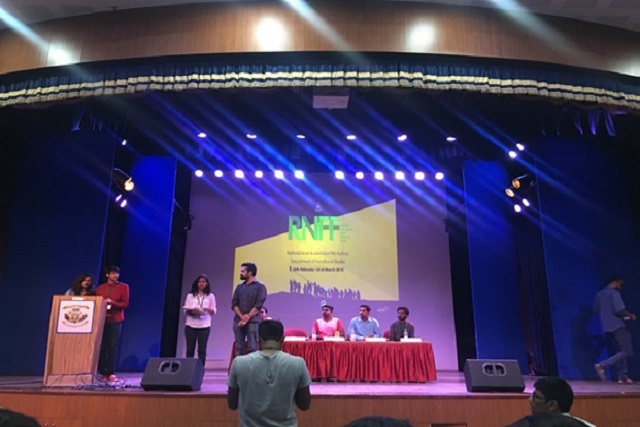 The first prize was bagged by the film 'Bhoomi' directed by Mithun Chandran, the second prize was given to the film 'Push Cart' directed by Prabhav Chaturvedi and the third prize was given to the film 'Tremors' directed by Shivangi Mittal.

After the announcement of the best films, the next category was declared. The film 'Bhoomi' was awarded for Best Direction. The film 'Irupuram' was awarded for Best Cinematography, the film 'Push Cart' was given the Best Art Direction award and the film 'Manorath' was awarded for Best Editing.

The film 'The Artist and the Kid' was given the Best Animation award. This film was one amongst the three animated short films that were screened at this year's Rushes.

Prof. Nevil D'souza from the Department of Communication, encapsulated the RNFF on a sweet note. He said, "Watching different movies is like trying out different cuisines. Only when we expose ourselves to different styles, do we grow and become better at wht we do. My colleague and Head of the Communication Department (HOD) Johnson Rajkumar always says that we have to cultivate a film culture. RNFF is a backbone for on our campus."

All the participants who got their films officially selected by a jury panel for RNFF were also given participation certificates as well through the hands of Arvind Sastry, writer, director and editor. Indian filmmaker, actor and music composer Rai Basrur graced the occasion with his presence and handed ou the prizes to the winners. Ravi Basrur made his debu wth Sandalwood blockbuster film 'Ugramm'.

Back