Josephites donate blood for government hospitals

St. Joseph's College conducted a blood donation camp on Thursday, expecting to collect 400 units of blood to be given to the major government hospitals in the city. "I have been donating blood for two years now. Some people discourage me from giving blood. But at the end of the day its my wish," said Rakshit M, a blood donor from the college.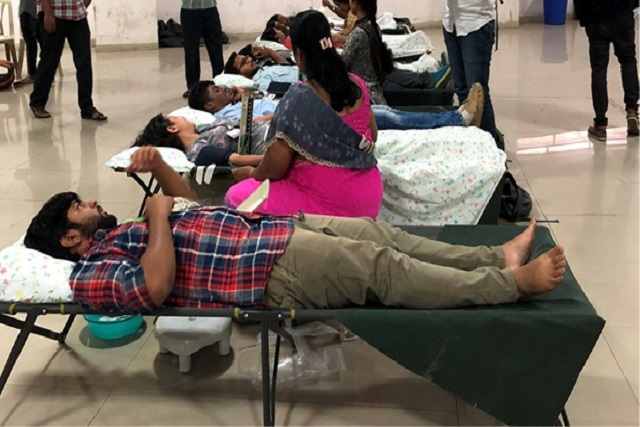 The college conducts blood donation camps every six months. This time the Lions Clubs International organised the camp to donate blood to Kidawai Memorial Institute of Oncology, Victoria Hospital, Indira Gandhi Institute of Child Health and National Institute of Mental Health and Neurosciences (NIMHANS).

"I am in the blood donation drive for 27 years. We only provide blood to the major government hospitals' blood banks, as they provide free blood. We are from the Lions Club International," said Sulochana Reddy, member of Lions Club International. "We have our own blood bank and we prefer to give to the government hospitals rather than private hospitals," she said.

"We have been organising blood donation camps at St. Joseph's Institutions for 17 years now," she added. Reddy also said they have conducted a motivational class to inspire students to donate blood. "We spoke about the benefits of donating blood and we expect more donors to participate as the strength of the college has increased this year," she said.

The NSS and the NCC students for the college helped organise the camp. "We are conducting blood donation camps every four months in the college. I was rejected the last time because my haemoglobin count was low, but this time I am a blood donor," said Nisha, an NSS volunteer from the college.

Back