Campus flashback: 2017 at a glance

Nirvaan 2017 kick starts at SJC - a national level intercollegiate cultural fest. State Level Seminar on Research in Business The state level seminar on Research in Business was organised by the Department of Commerce of St. Joseph's College (Autonomous). Student Council elections today in SJC St Joseph's College has readied itself for Election Day Call to strengthen Indo-US strategic partnership To understand the role of a strategic partnership between India and the US, a panel discussion was organised at St Joseph's. The panelists for the discussion were Ambassador P S Raghavan, Lt Gen. Prakash Menon and Prof. Narendra Pani while it was chaired by Prof. M J Vinod.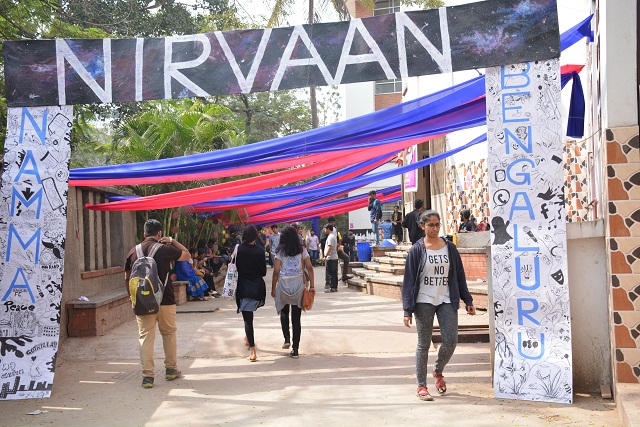 Manipur CM sidesteps AFSPA issue Speaking to the Manipuri Diaspora at college, BJP Chief Minister of Manipur Biren Singh on Tuesday fended off searching questions about issues like the continued imposition of the Armed Forces Special Powers Act (AFSPA) in the state.

Danish Sait in SJC courtesy Kannada Sangha The Kannada Sangha of St. Josephs' College pulled off a spectacular event by bringing in radio sensation and newly-minted movie star Danish Sait as Chief Guest to distribute the prizes for the winners of the Kannada Sanchalana, the intra-collegiate competition held earlier this month.

Pratibha 2017, the annual intra-college festival of St. Joseph's College which takes place on Monday and Wednesday. Students dressed in tribal costumes enhanced the theme of 'Go Tribalistic'.

NAAC team begins assessment of SJCs A three-member National Assessment and Accreditation Council (NAAC) peer team consisting of Dr. P. Prakash, Vice-chancellor of SRM University, Dr. Mrs. Dhulasi Vardharajan, from the School of Economics, Madurai Kamaraj University, Madurai, and Prof. M D P Rao, former principal, Khalikote Autonomous College, Odisha, began their audit and assessment of St Joseph's College on Friday.

SJC becomes first college to go the green way St Joseph College is striving to make students understand the value of solar energy by installing solar panels at the Arts and Science blocks and becoming the first ever institution in South India to do the same. The College received a Power award last month from Chief Minister Siddaramaiah for producing 100 KW of solar energy every month.


Back