Christ University is overall champion at Allura

Christ University swept the competitive events to become overall champions at the Allura 2017 intra-collegiate festival at the St Joseph's College that concluded on Saturday last.

The heavy rain couldn't wash away the spirit of this fest as a well-organised backup plan came into action as soon as the rain started. The main event in the quadrangle of the UG Block had to be moved to Xavier's Hall.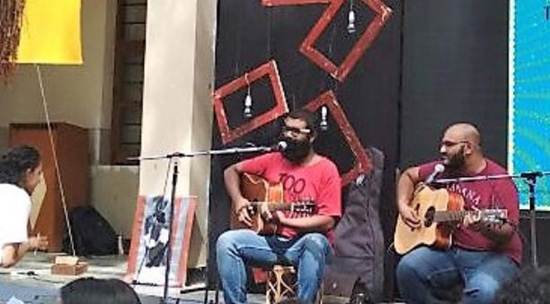 The events of the day included Comic Strip, Theatre, Radio, Face Painting, Photo Story and workshops on Photography and Creative Business. In the Fashion Contest, the SJC team bagged the first prize displaying costumes that brought together the themes of Steampunk and Sustainability. Six teams participated and the judges were eminent personalities from the fashion industry - Jane Pereira, Rahul Dev Shetty and Janis Barker.

Rahul Dev, fashion choreographer mentioned that extra points were given to the team that showed eco-friendliness. An exhibition set up near the quadrangle took visitors through the evolution of technology. On display were gadgets from the earliest telephone and type writer to present-day computer motherboards.

The fest came to an end with the announcement of prizes by the Head of Department of Visual Communication Johnson Rajkumar, followed by a music-filled evening.

KEY RESULTS: The Rebranding contest was won by Christ University with MES College winning second place. Graphic Design saw Kalamazoo College in the first place and Kristu Jayanti coming second. The Ad Launch event won by CMS Jain College and Jyothi Nivas College winning second place. The Film Screening Contest was won by Christ University. First place for Face Painting event was won by Acharya College and second by Christ University. The Crisis Management contest was won by Kristu Jayanti College with second place for MES College. Jain University won the Debate.
Back