Collegues bid adieu to Dr. Fr. Ambrose Pinto

Dr. Fr. Ambrose left behind a lot of memories among his near and dear ones. Some of the professors shared their memories with him. Byatha Jagadeesh, a faculty and a prominent lawyer, "I first met him in Delhi, when he was part of the Narmada movement. I had known him as only a social activist in the beginning. In 2007, he asked me to teach a paper for students on Media law. This was to build the political awareness of the people. The whole intention to start this department was to create this political active group who are concerned about the society and social issues".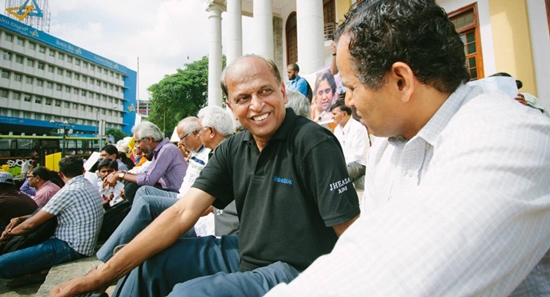 Father Richard Rego, director of Research centre said, "He was a friend of Professor Sukhdeep, former chairman of UGC apart from Mayavati when he was in Delhi. He was also personal friend of Digvijay Singh, Chief Minister of Madhya Pradesh. He called him personally to be in a committee. Siddaramiah called him personally last year for processing data on caste census. He was widely popular among the intellectuals like Prashanth Bhushan. He was part of the world social forum for his unflinching commitment to Dalits and tribes".

About personal memories with him, he said, "He was my spiritual guide. He never believed in status despite being a Principal. He always encouraged me to publish. He was so down to earth that he did not even have a mobile. The respect that I have for him is tremendous".

Prof Cherian, HOD of English department said, , "For me, he was not just a Principal but a great friend. We have done a lot of writing together. It's a very deep personal loss for me. Some people socially transform you, and he was one such person. Many young people have been impacted by him. For me he was like a prophet, someone who knew the world very well and knew what was wrong about it. We had great conversations on idealism which was ideally important. In his going, there is a big vacuum intellectually. We will miss him a great deal".


Back