Community radio covers 200 villages

Community radio can penetrate where neither newspapers or the internet can, primarily the villages, according to Shamantha D.S, founder of Sarathi Jhalak 90.4 MHz Community Radio. She was speaking to students and faculty of the Department of Mass Communication of St. Joseph's College (SJC) on Saturday. Sarathi Jhalak radio station is situated at Anugondanahalli in Hoskote taluk, Bangalore district. It covers over 200 villages.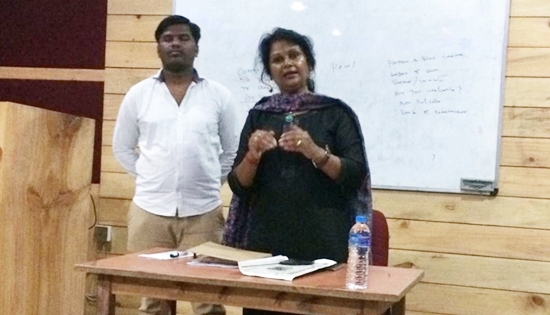 Sharing her experiences, Shamantha said, "We began community radio on August 25, 2005 with the people of the villages. Our first programmer was an Anganvadi teacher with no experience. She did well as she had good communication skills. When the people are from the villages, they know the pulse of the people and can create programmes according to the need of the people." All those who joined her in the community radio at first were inexperienced and she trained them. to be good programmers. "We call experts to speak about certain issues that affect the people. It includes health issues, agricultural, government policies and schemes. The programmers read the newspapers and tell the farmers what is going on over radio," she added. "I was a journalism student, but it took time for me to get trained in the radio. This learning experience is helping me to do well in my profession. In the village the people are not at all interested in songs but they want content programmes," Sunil. G, a programmer said.

Speaking to the Beacon, Shamantha said, "I found great satisfaction in serving the people. Whatever I want to do as a mainstream journalist I am doing it now. We want to take up certain community activities but due to financial issues we are not able to do". She also spoke about programmes which bring in awareness among the people using information gathered from the panchayat officials.
Back