Danish Sait in SJC courtesy Kannada Sangha

The Kannada Sangha of St. Josephs' College pulled off a spectacular event by bringing in radio sensation and newly-minted movie star Danish Sait as Chief Guest to distribute the prizes for the winners of the Kannada Sanchalana, the intra-collegiate competition held earlier this month.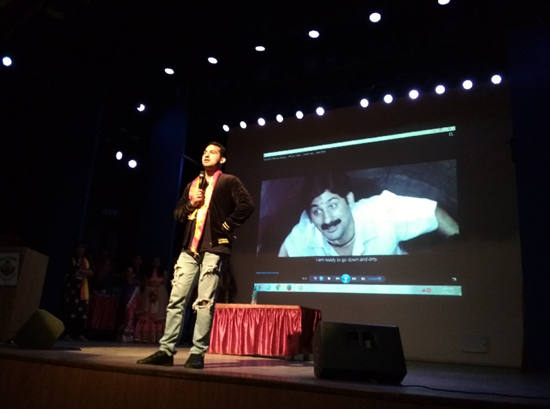 Danish Sait used the opportunity to promote his soon-to-be-released movie "Humble Politician Nagraj". "When I was young I had dreams and I am now fulfilling them in style," he said, talking about his entry into the movie industry.

The movie was made by Sait and his team to start a movement about educating people about not only 'the right to vote' but also 'the right to vote right'. "We are trying to tell people how to think and vote for the right people," he said.

There were technical issues while screening the trailer of his film and he took time out to interact with the students and opening up about his bout with depression. "Depression is like an injury. When you injure yourself, you go to the doctor. That's what I did. I went to the doctor and started reading,"

He received support from Virat Kohli and Rana Dagubatti for the trailer of his new movie. "If the content and matter is good you will get the appreciation and recognition," he said, pointing out that the message transcends the barriers of language.

"Instead of talking about a discourse in Kannada, talking in Kannada itself is more effective," he said about retaining the essence of the language.

The Kannada Sangha has received an overwhelming response from the student body to work for its revival.

Yeshwanth, a student with the Sangha, said "The encouragement by the teachers and enthusiasm of the students was responsible for the auditorium being filled completely by students today."

He added that "Everyone is talking about the ceremony and this word-of-mouth appreciation makes us feel proud of our success." The Kannada Sangha had planned to be in the forefront of SJC activities this year.
Back