Exodus celebrates God's love


For the second time in a row, students of Kristu Jayanti College secured the overall championship of the 30th edition of Exodus, bagging 13 prizes out of the 21 events held. The 'Jayantians' gave a tough competition to participants from 17 other colleges, and Christ University were the runners up.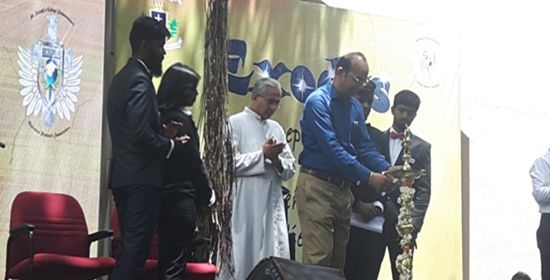 Congratulating the participants and volunteers, Vice-principal Fr. Melwyn D' Cunha presided over the prize distribution ceremony, along with Christian Students' Association resident Felix Sachin and M.S Raja CSA coordinator. "This event is the outcome of collaborative effort of all the student bodies, I would like to thank the CSA, the volunteers, participants, staff, the principal Fr. Victor and event coordinator Mr. Raja for hosting Exodus '17" said Fr. Melwyn.

"We played one song and placed first in the battle of bands, with little time for practice we still pulled it off" says Sam M Joy of St. Joseph's College of Commerce whose team won the Battle of Bands event. Exodus 2017 was inaugurated on August 26t by Rev. Fr. Clarence D'Souza, Vice Principal, St. Joseph's College. The two- day 'fest of the Gospel' had 'Acceptance' as the theme.

Our themes are usually based on the characteristics of Jesus. He is merciful, gracious and he is our saviour. So when we were thinking about an important quality we realised that God accepts us the way we are. Whether we are good or bad, we pray or not he accepts us for who we are. So we selected acceptance as our theme" said Preetha Immanuel, General Secretary, C.S.A. Prof. C.A.R. Maria Sahayaraj, Co-ordinator, Christian Students Association (C.S.A) told the gathering "Accept the way God has created you, accept your talents. Everyone is special in his consideration, I suppose definetly everyone will come up with their talent and they will give whatever best in them for praising worshipping the better glory of God".

Contemporary gospel songs were sung by Praisin Peter and Crew as a part of the Praise and Worship session.

"I have participated in Exodus for about five times while I was in college. As a spectator it's been two years now. I feel Exodus has come down a bit and is not up to the mark this year. Maybe the marketing part of it is missing, not many people know about it," said Arun Paul, Assistant Music Conductor, Tunbridge School. Some of the main events that took place includes Creative introduction, Western music, Vernacular music, Bible fashion and Battle of bands. Though rains made it hard to manage the events on Sunday, it didn't seem to dampen the enthusiasm of the CSA volunteers. "We worked together and it was great to see such unity among the teams as well, we accept things and move on," said Carlos Maynard, Vice President of C.S.A.
Back