Fight to end bias, urges Fr Lobo

On the occasion of the 70th Independence Day, the faculty and students of St Joseph's College were motivated by Rev Fr Principal Victor Lobo to face the great challenge ahead of freeing India from communal disturbances, intolerance, hunger, caste and other such discriminations.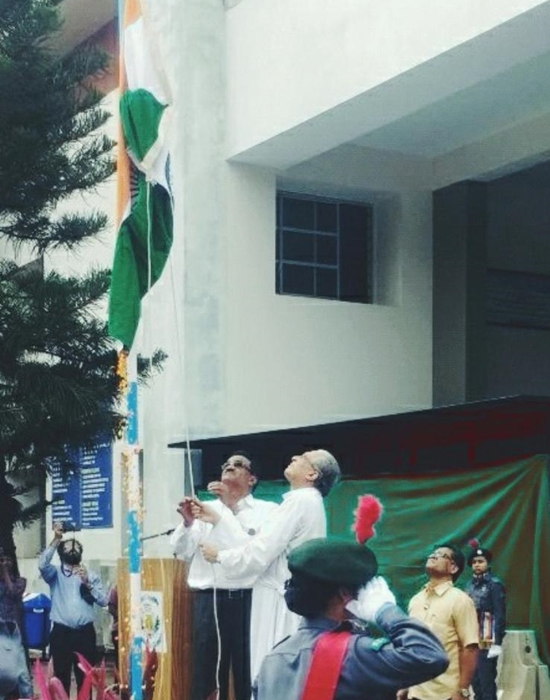 In the absence of the Principal, who is away in Indonesia to attend a Jesuits Among Muslims (JAM) conference, his message was read out by Prof.Clement D'Souza, Vice-principal, Aruppe Block. Fr Lobo in his message urged the audience to take a pledge to help the nation to face these challenges and deliver India from them and "only then can we truly celebrate Independence with every Indian".

Fr. Clarence said "The Tricolour was first hoisted in 1930 during the resolution for 'Purna Swaraj' and it was later confirmed on August 15 as the national flag to celebrate the joy and the sacrifices our forefathers made for the country to earn Independence".

Fr. Clarence D'Souza SJ, Vice -principal and Registrar, hoisted the Tricolour and was greeted by students of various departments and associations with flags and roses.

Lt. Akshay Manglik, Dr.Paul Newman and Fr. Clarence then honoured the NCC cadets during the piping ceremony. For the first time, NCC cadets were honoured with various ranks by the dignitaries.

Governor of the Student Council, Dr. Joyce D'Souza said "It is an honour celebrating India's 70th Independence Day in college, especially along with the NCC, Air and Navy wings and armed forces and a large number of students from the NSS who have come here to celebrate this day". Later in the day, the special on-duty NCC cadets took position at precisely 6 p.m. as per the flag code to lower the National flag.
Back