Workshop on Happy Parenting
A report by Dr Priyanka Parmar

A one day workshop on 'Happy Parenting' was organised by the Parents' Council on Saturday, 19th August, 2017 in the college. The programme started with a Prayer Song by the students of BSW followed by the inaugural address given by the Vice Principal Administration and Registrar Rev. Fr. Clarence D'souza SJ. Father appreciated the efforts taken by the Parents Council and said that we should learn to celebrate the uniqueness of our children as each one is special and each one is gifted. An input on role of parents in Internal Quality Assurance and forthcoming visit of NAAC to grade college was given by Dr. Subhashini Muthukrishnan, Coordinator, IQAC.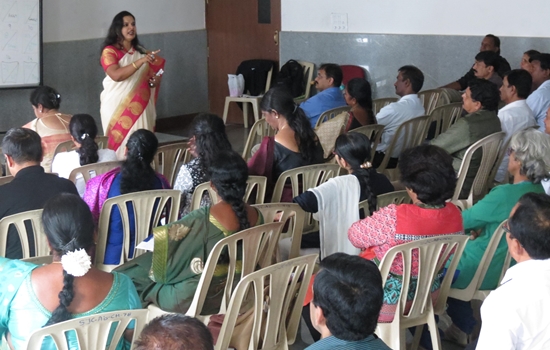 The workshop was divided into three sessions; the first session was conducted by Dr. Stephen Titus, Head, Dept, of Mathematics, St. Joseph's College and also a renowned life skills trainer. He conducted a session on 'Parenting - Myths and Realities'. The session was based on group activity, where parents worked in small groups, starting from sharing their experiences of parenting, articulating their take on myths and realities and then finally dwelling collectively to find solutions for the same. It was a much appreciated session.

The second session of the workshop was conducted by Dr. R Vijaya Saraswathy, a parent member of the Executive Council of Parents' Council and also a life skill trainer. Dr. Vijaya's session was based on 'Collaborative Parenting'. In the beginning of the session, the speaker had put ten questions to the audience and asked them to write answers for the same. The second part of the session was solutions to these questions by the speaker herself, in a very elaborative way. The session had ice breakers and small activities in between to energise the audience.

The third and the last session of the day was conducted by Dr. Asha, an Educational Scientist and Child Development Consultant. Dr. Asha's session was based on 'Freedom of Expression - Introduction to Proactive Parenting'. She said it is important to teach our children, to be able to think from the very beginning so that they are capable to make the right choices, once they reach the age of adolescence. Parents were quiet inquisitive and so lot of questions were asked, which were happily answered by the speaker.

The workshop ended with the vote of thanks, which was proposed by Ms. Princy Nisha, Asst. Prof., Dept. of Commerce. The worksop was well appreciated by the parents. Ms. Gladys was the Master of the Ceremony. The workshop concluded with tea at 3.30 pm.
Back