Call to strengthen Indo-US strategic partnership

To understand the role of a strategic partnership between India and the US, a panel discussion was organised at St Joseph's College on Thursday. The panelists for the discussion were Ambassador P S Raghavan, Lt Gen. Prakash Menon and Prof. Narendra Pani while it was chaired by Prof. M J Vinod.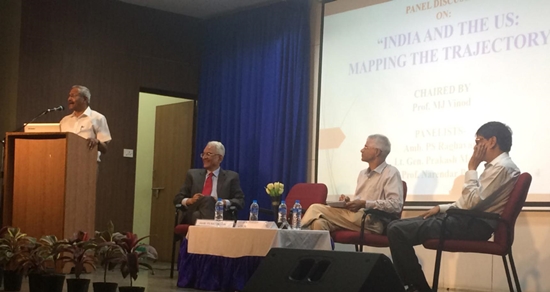 The discussion highlighted the need to understand the key concepts of strategic partnership, defence ties with India's partnered countries and the economic ties India has with them

In his address on strategic partnership the ambassador emphasised the importance of understanding the role of strategic partnership between two countries and how India developed partnerships with US, China and Russia. He explained how the world was divided into two political blocks, mainly the NATO which was created in 1949 by the United States, Canada and other Western countries, and the USSR-led block which was formed by the Russians. As every country took a stance on alignment, India initiated the Non Alignment Movement (NAM).

While the Ambassador mentioned the political side of the partnership, he said how India's economic growth took off due to technological development and how India became a counterbalance to China.

Prof. Prakash Menon explained how India developed a great power relation and gained access to state-of-the-art technology and developed relationship with USA post Cold War.

USA in return recognised India as a great partner for nuclear energy and helped India counter the terrorist threats faced by Pakistan.

He explained the challenges a country has to face for a good strategic partnership and the need to navigate through tough times to have a great partnership.

The discussion also included The Trump Effect which points to the interdependency of two leaders to run a country. Only such a great partnership can benefit both the parties in terms of defence, economies and markets. The discussion also focused on how there is a need to maintain a good strategic partnership in order to strengthen economies and bargain for technologies for the greater good.

In the discussion on defence ties with India, the speaker Prakash Menon explained why was US considering India for its strategic partnership when it came to defence. He said that India was the next best option as China was is its competitor. Maiza Mohamed, student from the Political Science Department said, "US wants India to be an important player in Asia because of the threat of the Chinese growth and its tendency to rule Asia. This is indirectly a reason why US is intrested with India.
Back