A. Sastry motivates the aspiring film makers at SJC

The edition of Rushes National Film Festival concluded with the screening of the movie Kahi, followed by a discussion with Arvind Sastry, writer, director and editor of the movie. Arvind spoke to the students about how he made this movie and inspired them to fulfil their dreams. "If anyone wishes to make a movie just do it. I never assisted anyone, and has faced much criticism regarding this. Still I did what I felt is right and started making my movie", said Arvind while interacting with the students.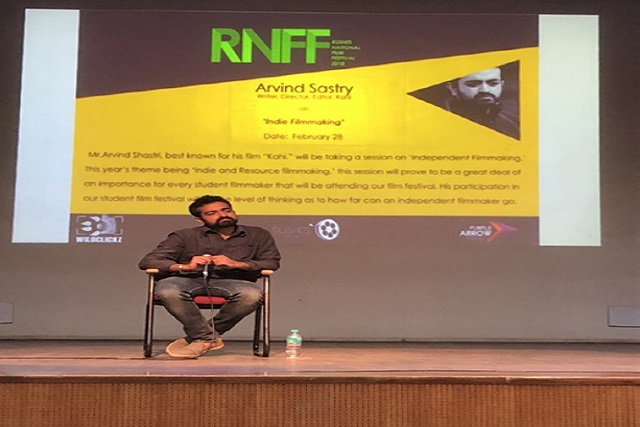 The movie Kahi was completed within 30-35 days time. It was shot using Black Magic Production camera. And for long shots 5D cameras were used. The movie was mostly shot with LED lights and guerrilla shots.

"Its little strange right now to think about the inspiration behind this movie. The first draft of te movie was completely different from the final draft. At the beginning there were only three characters. We should keep going through the story and be patient with the writing," he added.

"Shooting the party sequence was the only challenge I faced. We had to pull off the scene that day itself as we did not have another option of shooting it any other day. That was really challenging and I am very satisfied with the scene", says Arvind.

Arvind said that he would like to explore different genres of film making. Also he mentioned that he would like to revisit genre like Kahi and make it better the time around.

"Kahi means bitter and I felt this title would suit the movie. Also it's a two syllable word and this would help people remember the name faster," he said when a student asked about the film's title. He also spoke about the censoring of certain words in the movie by the Censor Board even after the movie received an A certificate. He found this part a little unfair because there are other movies with similar words screened in theatre, without any censoring done.

Back