Human Rights celebration brings the Iron Lady to the campus

Irom Chanu Sharmila visits the campus to inaugurate the Human Rights celebration organized by the National Service Scheme (NSS). She was accompanied by Margareta Sampath Deputy Director of SICHREM, Principal Dr. Fr. Victor Lobo and Rv. Fr. Anthony Joseph, SJ.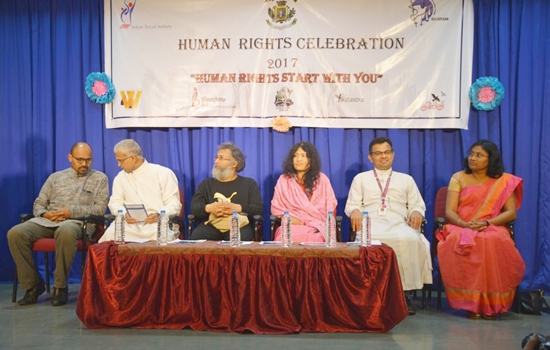 The 10 daylong celebration marks its start on December 1st, which is recognized as World AIDS Day. SJC is the only college that celebrates 10 days of Human Rights, with a different theme every day.

Irom Sharmila emotionally addressed the audience during the inaugural function. She said, "We are scared to express and expose the unfair happenings, that's why we are not able to bring in a change in the society. The unfair happenings in this country speaks for the need for spreading awareness about human rights."

Taking a moment to talk about her hunger strike she said, "When I was young like you, the society, Government and law that was supposed to save the people turned against us. That's when I felt the need to express myself. Following Mahatma Gandhi's steps I started the hunger strike."

She added saying, "One individual alone cannot make a difference in society, it is everyone's responsibility to share the sorrow and happiness."

Father Alwyn Prakash D'souza, SJ, the Head of Human Rights and Training unit, Indian Social Institute said, "Belief in humanity and belief in human rights will help us to fight for it."

The celebration began with students distributing badges of red ribbon and painting the red ribbon symbol on students' hands to spread awareness about AIDS.

During the lunch break the college mime team and street play team performed in the quadrangle to bring to light various issue faced by HIV positive patients. Following this, Ms. Meeta Gerosa Pereira, co-ordinator of Department of Psychology and Counselling and Dr. R K Prasad along with the students pledged to treat the aids patients with equality in society and spread awareness about the same.
Back