SJC student wins taekwondo gold medal in S. Korea

Prajwal Bhoopal, a student of III B.Com from St Joseph's College (Autonomous) bagged the second place in black belt (male 17-19 years category) at the Chuncheon Korea Open tournament in taekwondo in South Korea.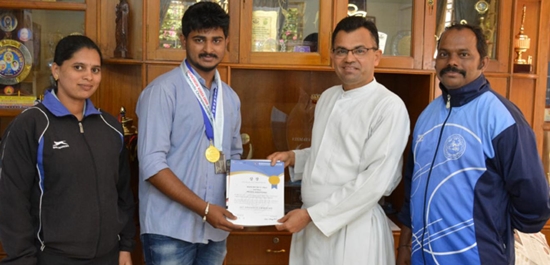 A student by day and a champion by evening, Prajwal talks about his journey to The Beacon. Excerpts from his interview:

Q: How long have you been practicing Taekwondo?
Prajwal: I have been practicing taekwondo for 13 years now. When I was a kid in first standard, selections for taekwondo were organised in Little Angels Public School, Bengaluru. The top five students were selected, and I was lucky to be among them. Whoever was selected was exempted from paying fees I got through and started my taekwondo practice from 5am-7am every morning and then an evening practice session.

Q: Did you get any financial aid granted by the college, state or central government for all your expenses?
Prajwal: I have been representing India for thirteen years now. I pay for my stay and flight; the Central government does not fund a particular individual. If there is a group representing India, we are funded. If not, we do not have the support from the government.

Q: How often do you travel for your taekwondo contests?
Prajwal: In my thirteen years of practice I have been to twelve countries. I was in China in the month of May and Sri Lanka earlier.

Q: What are your career plans, sports or a job?
Prajwal: I plan to participate in Olympics 2020. The selections are going on in New Delhi right now. I am 80 per cent through the selection process. If I am selected I will be the first Indian since 2000 participating in taekwondo and the second person participating ever since.

Q: Are any companies planning to fund you?
Prajwal: Yes, ACC Cements and Indus TMT steel industries are planning to fund me for my future tournaments.

Q: What is your schedule for practicing taekwondo?
Prajwal: My schedule is very busy. I start at 4 a.m., jog and then practice. I finish college by 12 p.m. and then I practice at Kanteerava Stadium or Ambedkar Stadium in Basaveshwara Nagar. So it is 7 hours of practice per day.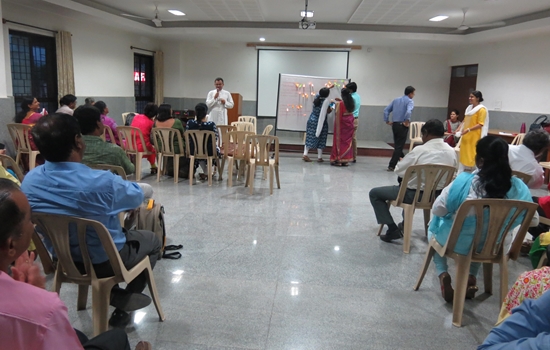 Following the Principal's address, Ms. Poonam R Ahuja, Ms. Viola Noronha and Mr. Manojit (dept. Of Economics) conducted the brainstorming session for parents. All the parents chose to be a part of one of the following groups, namely - Facilitators, Organisers, Counsellors ( Psychological Counsellors and Career Counsellors) and came up with ideas that they would like to implement in this academic year under the aegis of the Parents' Council. The group ideas were then shared with the larger audience and one or two members took ownership for each of the ideas listed. Out of the long list of ideas suggested by parents, it was decided that a workshop for parents on 'Happy Parenting' and a workshop for students on 'Career guidance' would be the first programmes to be organised by the Parents' Council.

Next up was the formation of the Executive Committee of the Parents' Council. It was decided that three members from the previous year's Executive Committee will continue to be a part this year as well. They were Ms. Aruna Newton, Mr. Giri Ramamohan and Ms. Rashmi Ramanand. The three new members who volunteered were Ms. Gladys, Mr. Shreekarunya and Dr. Vijaya Saraswathi. The newly constituted Executive Committee decided to meet on 19th July 2017 at 5.00 pm to discuss other modalities.

Dr. Ronald Mascarenhas, Convenor of the Parents' Council spoke to the audience on the need for initiating this forum way back in 2006 and how it was subsequently made mandatory by the UGC. He expressed confidence that the parents would take the Parents' Council forward for the benefit of all involved.

The programme concluded at around 7:30 pm with Ms. Viola Noronha proposing the Vote of Thanks.
Back