Thousands take part in 'March for Science' in city

Hundreds of scientists, professors, school and college students and others, concerned over the rising anti-science and superstitious trends emerging in the country, joined the India March for Science in the City on Wednesday. They were part of such marches being organised in 36 cities across the country. The March for Science has been initiated as a response to counter religious intolerance and illogical reasoning and it was organised by the Breakthrough Science Society.

The marchers, after an inaugural event at the Town Hall, held up placards and shouted slogans while trudging on through the city to the Senate Hall for a meeting.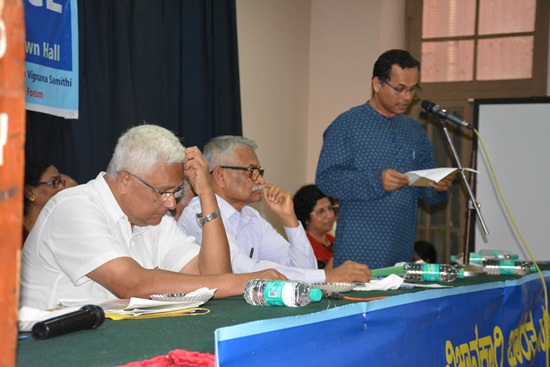 The march saw the involvement of eminent people like Nagesh Hegde, science writer and environmentalist, Dr H S M Prakash, Deputy Director General (Retd) GSI and Dr Richard Rego, Director at St Joseph's Research Centre, to name a few. Participants in the march were rallying to also demand that the Central government allocate at least three per cent of the GDP to scientific and technological research and 10 per cent towards education. The scientists are concerned that financial support to even premier institutions like IITs, NITs and IISERs had been slashed. Universities have fewer funds for research and research funding agencies like DST, DBT and CSIR have also been hard hit.

The second demand was to stop unscientific reasoning, obscurantist ideas and religious intolerance and to develop scientific temper, encourage human values and spirit of inquiry in conformance with Article 51A(h) of the Constitution. The two other demands were to ensure that education system imparts only ideas that are supported by scientific evidence and to enact policies based on evidence-based science.

The march began after participants paid homage to space scientist U R Rao, Prof Yash Pal and P M Bhargava who had made great contributions towards science, technology and education. Prof S Japhet, Vice Chancellor, Bengaluru Central University, said, "This will be a memorable day as we mark this day to promote education. India should recognise science unlike the other fields like media and literature which are popular. We have to discuss the contribution of science and scientists as a part of our public domain and popular culture." He added that he was overwhelmed to see a huge turnout at the event.

Dr Richard Rego, Director at St Joseph's Research Centre, speaking at the Senate Hall, said, "No society can survive without knowledge and thinking. Critical thinking and doubt are a reflection of research, which are the life and blood of any society and any modern civilization." It was doubt that enabled Galileo and William Harvey to explore further and give a different trajectory to history.

He ended by saying that this movement was a movement to move forward, to progress. Mahesh Udupa, a second year Mathematics student from St Joseph's College said, "I think science gives space to reason and to think logically. Scientific process does justice to think using reason and rules out spiritual beliefs."

The participants rued that non-scientific ideas lacking in evidence were being propagated as science by persons in high positions, fuelling a confrontational chauvinism. The scientific bent of mind would counter the trend in the country of witch hunting, honour killing and mob lynchings, they said. The March for Science in India complements and supplements the marches for science that took place in 600 cities across the world recently.
Back