MediaCon'18 to 'Document' dissent

Following the up rise of intolerance and dissent being silenced in extremely violent ways about the country, the Post praduate students of the Mass Communication Department at St. Josephs College are organizing a rigorous national symposium – MediaCon'18 as an academic response.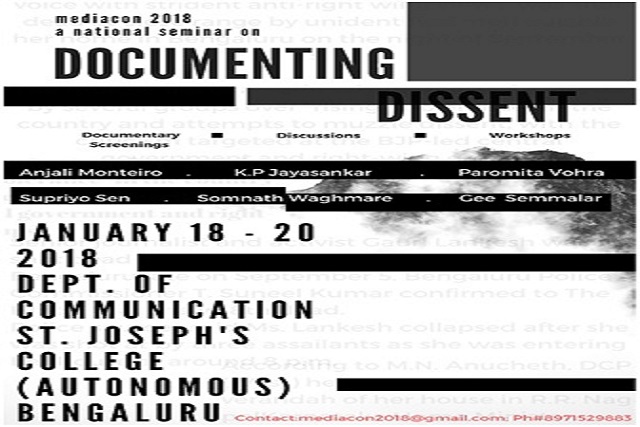 The three-day conference will be devoted entirely to films that document dissent alongside insightful panel discussions and workshops. The fest aims at broadening the perspectives of young minds, as it is important for students to understand the way in which one can creatively intervene into the matters of intolerance. Documenting Dissent through films is one such creative genre that involves a critical way to respond to the climate of fear that subsists.

Mediacon'18 this year will bring to you an array of poignant documentary filmmakers who have dwelled in the various realms of dissent. The distinguished filmmakers include Supriyo Sen, Paromita Vohra, Anjali Monteirio, K P Jayasankar, Somnath Waghmare and Gee Imaan Semmalar.

Supriyo Sen, also an active political thinker and environmentalist, has directed and produced award winning feature documentaries like The Nest(2000), Way Back Home(2003), Hope Dies Last in War (2007) and Wagah (2009).

Paromita Vohra's works like Partners in Crime (2011), Morality TV and Living Jehad: A Thrilling Tale (2007), Q2P (2006), Where's Sandra (2005) revolve around the premises of urban life, popular culture, gender, politics and art.

Anjali Monteirio is a Filmmaker, Professor and Dean at the School of Media and Cultural Studies, Tata Institute of Social Sciences, Mumbai. K P Jaysankar, also a Professor and Chairperson, Center for Critical Media Praxis, School of Media and Cultural Studies, Tata Institute of Social Sciences, Mumbai.

Both Monteirio and Jaysankar have to their credit over 32 international awards and have served as jury members for various acclaimed film festivals in India.

Somnath Waghmare, known for his film I am not a Witch and The Battle of Bhima Koregaon- an Unending Journey, is a PhD scholar at Tata Institute of Social Sciences, Mumbai and has contributed immensely to the documentary film domain.

Gee Imaan Semmalar, is a trans activist, writer and theatre artist. He is popularly known for his contribution in the stop motion animation film, "Won't the Real Transformers Please Stand up"?

Back