SJC gears up for NAAC team's visit

St Joseph's College has been advised to both highlight and boost its research activities if it hopes to rise in the rankings of the National Assessment and Accreditation Council (NAAC)whose review team is expected in the college next week.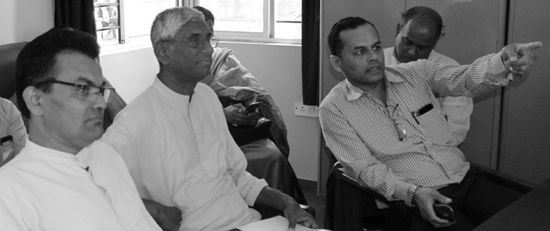 Fr. Dr. Ignacimuthu SJ, former vice-chancellor of Chennai and Bharatidasan universities and ex-principal of Loyola College, Chennai, who was here today on a mission to review SJC preparedness for the NAAC visit told a gathering of faculty that NAAC gives higher rankings in its assessment index to colleges that promote research and consultancy which could also help garner revenue.

He emphasised the importance of research by not only the students but also the faculty and the use of contemporary, innovative teaching practices. "Make the students like what they learn," he said, urging that the students be given hands-on, experiential learning.

Fr. Ignacimuthu, as the former principal of Loyola College, a college ranked at the top of the NAAC list said "Loyola College always got a score of hundred for research, something no other institution has scored." He urged that SJC strengthen its Research Centre and get more articles and papers published in prestigious journals. He cited the recent example of Loyola College getting Rs 5 crores for research projects.

At the Research Centre headed by Fr Dr Richard Rego he perused the research policy created in SJC for the Bangalore Jesuit Education Society (BJES) institutions.

There is funding of Rs 50 lakhs set apart for research for 2016-2018 and around 10 approved projects for faculty. Fr Ignacimuthu suggested that the Research Centre take in at least five full-time research students.

On inspecting the departments in the college, he noted that most departments seem to be ready for the NAAC visit except one, for which he has suggested remedial measures. "Our aim should be to transcend the benchmark that is already set," he said, talking about how NAAC visits are objective in nature but they do try and identify shortcomings.

He suggested that the college portray its best practices, and that which was outstanding or unique that can be modelled for other colleges as well as project the college well to the NAAC.
Back