No real need for official flag, says K'taka politicos

Cutting across party lines, several participants in a discussion on the necessity and meaning of the Karnataka flag in terms of identity stated that Karnataka has a cultural flag and does not need a political flag.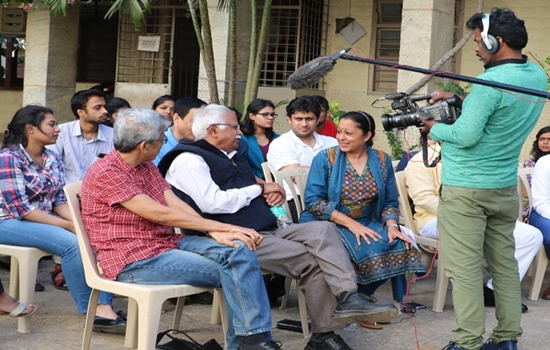 Tejasvi Surya, State Secretary of the Bharatiya Janata Yuva Morcha, Karnataka, and Tanveer Ahmad, national spokesperson, Janata Dal (Secular), joined hands together on the issue of the Karnataka flag.

Surya, in response to a question posed by the NDTV host Maya Sharma, said: "Karnataka already has a cultural flag that is already celebrated and it does not need a political flag.' This issue of a flag also relates to inster-state issues that exist between Maharashtra and Karnataka, for instance, Surya noted. Tanveer Ahmed said "We already have a flag and don't need a flag."

K Sudhakar, MLA, from the Congress party which rules the State, said that the idea of having an official flag is being explored for its legality. the party which forms the government in the state and was exploring the legality of having the official flag, was also present.

The discussion was part of the talk show 'Agenda' of NDTV that was filmed at St Joseph's College on Thursday evening. The topic of discussion was 'Regional Identity vs. National Identity' and it comes in the wake of the controversy raked up over the idea of having an official flag for the State of Karnataka.

Dr G K Karanth, renowned academic, said, "The Kannada flag that we have been talking about has not been an elite symbol. It has been an ordinary man's symbol. I think every ordinary man would like to hold the flag much closer to him and sing Huttidare Kannadanaddali Huttabeku and hold it as something as his or her own. And if it becomes a state symbol, does he have the pleasure of singing with that flag as and when he likes?"

Dr Karanth also pointed to the unrest within Karnataka state about its identity and the impact of the singularity of identity under one flag.

Reema Ann Roy, a post graduate student at SJC said, "If we keep doing this, every state may come up demanding the same. And we will have different anthems for different states and different flags for each state."

Jayasimha K, post graduate student, opined that if the state can have its own anthem which states that Karnataka is the daughter of India, an official flag for the state will not subvert allegiance in any way.
Back