Poll candidates pitch ideas, make promises

The candidates hoping to be elected to the Students Council of St Joseph's College on Wednesday pitched their promises and plans to large crowds of student voters in the PG Quadrangle with their supporters cheering them on with slogans, tambourines and drumbeats. The election campaign itself had concluded on Tuesday after two days of hectic campaigning across the SJC campus. The candidates contesting for the post of Joint Secretary addressed the in the presence of Dr. Kiran Jeevan, PRO of SJC.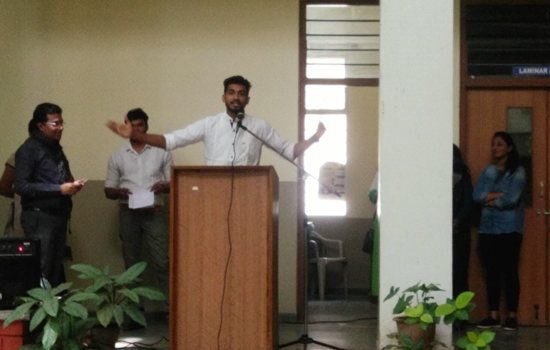 Joint Secretary is the only post that is assigned for the PG students to contest and it bridges the communication between the PG and the UG Blocks. The candidates are Libin Thomas, Bibin Jacob, Navya George and Monisha. All the candidates spoke about their plans to make the campus a better place in different ways. The promises made by them related to getting the college wifi working smoothly all the time, opening science clubs, decreasing the students' parking fee, remaining loyal to the interests of the students and fulfilling their demands as and when they arise.

"It is beautiful to see democracy so alive in the PG Block. The competition is very healthy here in the elections, which is a very good trend I see among the students," said Dr. Kiran Jeevan. "Democracy begins; democracy does not end with elections while we are choosing our representatives. We should stand together and resolve our matters together. I will do the needful to decrease the college parking fee for the students. We will work for our basic rights. And I wish good luck to all the candidates," said Bibin Jacob, one the candidates.

Monisha, another candidate, spoke of opening a science club open to all departments and dealing with the menace of mosquitoes across campus. Libin, another contestant, spoke of getting classes rescheduled in the PG block so that PG students could take part in events pertaining to UG events like Allura, Pratibha, Nirvaan and sporting events. The voting for these election will begin at 9am on July 7 and results will be announced on the same day at 4pm.
Back