Role of news anchors who yell questioned

A news anchor should not be the star but the medium in the discourse of news given the trend of news anchors yelling at guest panelists to create a dramatic prime time segment, observed Maya Sharma, Resident Editor of NDTV.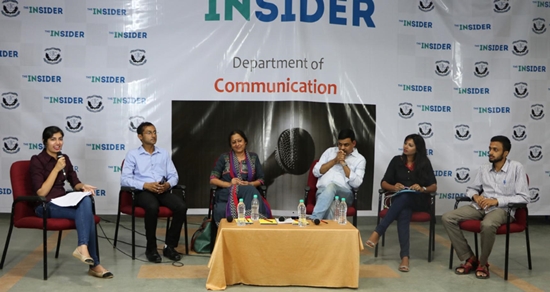 She was participating in 'The Insider' programme on the "Future of Broadcast Journalism" organised by the Josephite Media Forum on Monday evening at St Joseph's College.

The panelists included Nolan Pinto of India Today, Sreeja MS of Mirror Now and D P Satish of CNN- News18.

Maya Sharma noted that not all channels follow the yelling norm. "We (NDTV) don't have to shout to be heard," she said.

"As journalists it is not our job to aggravate the guests but to ask tough questions to start a discussion," said Nolan Pinto. Sreeja felt that, "Citizens cannot yell at politicians like Arnab Goswami does, so when they see journalists do it, they like it."

The panel felt that multi-taskers will be to the fore with the advent of digital journalism and the major shift in reporting style. Earlier teams of seven people have been downsized to a reporter and the cell phone. As more journalists take up multiple tasks, news channels resort to lay-offs for cost effectiveness. "Digitalization will not be the revolution but the people behind it are the revolution," said Sreeja about the new trend.

The shift to online sources for news on social media by means of citizen journalism leads to the onset of fake news. "Citizen journalism is vital but that does not always make it true even though it may be tweeted by famous people," said Maya Sharma.
Back