Ramapo students in tete-a-tete on democracy

Students of St Joseph's College on Tuesday got a chance to discuss the 'faces' of democracy with six students from Ramapo College, New Jersey, USA.

The main point of the conversation was to understand the framework and practice of democracy in India and the USA and how they shape ideologies. The discussion was under the aegis of the Department of Political Science.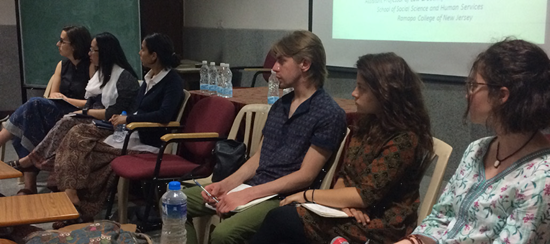 The six students from the USA came from different backgrounds but what united them was their interest in law, society and sustainability. All six of the students were anti- Donald Trump in their views. Anastasia Caulfield raised points on how one could claim to be democratic but when it came to practice, the community often gets suppressed.

Atreyee Madhukalya, a political science student, said, "We say we are democratic but we are actually not. When I post something on a platform like Facebook, I use all sorts of words and people ask me to look at the words. But when we say democracy why take away my freedom of speech?"

She added that contradictions in the practice of democracy only create fear among people and people cannot be prosecuted for demanding something they have been promised. "This new-found democracy slowly kills people and they lose faith in democracy," she claimed.

Anna D, from Ramapo, wanted to know if Indian students participate in voting. Lokeshwari S Gowda of the Dept of Politics replied that "To vote, we need to have a voter's ID card which itself takes time to happen."
Back