Panelists debate real challenges of fake news

"'Ache Din' is a fake narrative," said JDS National Spokesperson, Tanveer Ahmed at a panel discussion focusing on fake news and its challenges on contemporary media held on Friday. He was of the opinion that fake news is not a serious issue and can be easily tackled as its shelf-life is very short.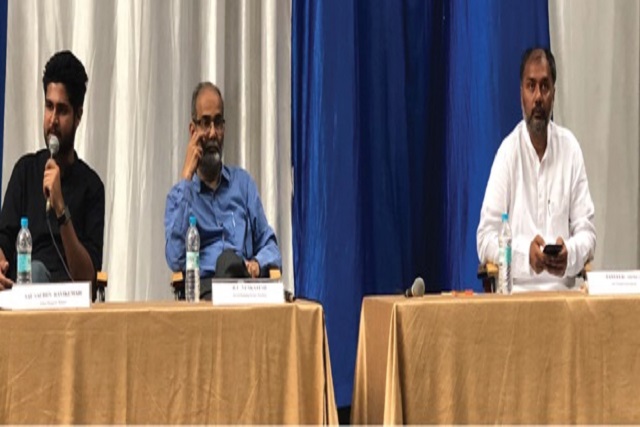 He added that it is the fake narrative in most of the news reports that cause a long-term damage on society. Sai Sachin Ravi Kumar, Editor-Reporter at Reuters, also present at the panel discussion disagreed with Mr Ahmed.

He said that fake news needs to be treated seriously and felt that it was wrong of Mr Ahmed to be telling young journalists to ignore fake news. He suggested that political leaders, such as the PM, Narendra Modi, himself should make statements discouraging the spread of fake news. He mentioned about the lack of legal mechanisms to deal with fake news.

He urged aspiring journalists to constantly and vigorously fact-check their information before presenting it to the public. "We are certainly more mindful of fake news especially in the context of stuff that gets forwarded on whatsapp. On the coverage point of view, we are definitely paying attention to stories of fake news leading to significant events across the country," said Mr Kumar when asked if fake news has changed the way journalists work today. "Anybody and everybody can be a publisher today," said BT Venkatesh, Advocate and Managing Director at Reachlaw. speaking about how easy it is to spread fake news with the "explosion of technology".

He encouraged the audience to circumspect when sharing information with others. In a question-answer session, students pointed out that fake news is actually the cause of a fake narrative and contradicted Ahmed's statements.

Back