Rushes National Film Fest is back with a bang!

The second edition of the Rushes National Film Festival (RNFF) sees a pool of talented, independent film makers, telling their stories and inspiring budding filmmakers.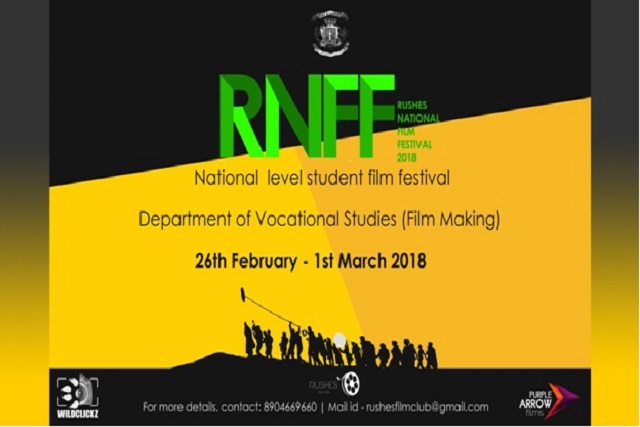 RNFF was inaugurated by S K Bhagvan, Dadasaheb Phalke Academy Award winner and the director of over 55 Kannada films and Jayaprakash Radhakrishnan, independent director and winner of many national awards such as the Gollapudi National Awards for Best Debutant Director in 2015.

"The start of making short films begins with a primary idea. All you need is an idea that can go on to help you making a good short film," believes Jayaprakash Radhakrishnan.

RNFF was inaugurated with a prayer song by the Josephite choir, followed by the speeches from the Chief Guests and finally, clapping of the clapboard to declare the commencement of RNFF.

Chief guest and director, S K Bhagvan elaborated on the Es required for making films and motivated many. "The Es such as execution of your idea, as well as educative and entertainment elements are very important in film making," said S K Bhagvan.

Hosted by St. Joseph's college, this year's RNFF will see independent film makers from all over the world discussing variety of issues including the complicated dynamics that exist between children and parents, the stress involved in preparing for and writing competitive exams as well dealing with abstract themes such as colour.

Back