Lead, be led or get lost: Sahay

There are three traits of life and these are 'Lead, Be Led or Get Lost' and the student has to choose the trait that will help him get ahead, according to Sanjay Sahay, Additional Director General of Police, Public Grievance and Human Rights Cell.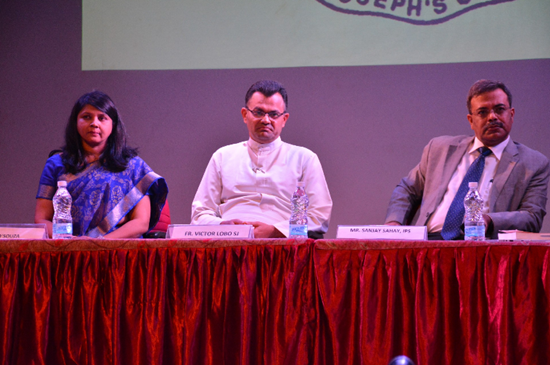 He was addressing a large gathering of faculty and students at an investiture ceremony held at St Joseph's College marking the new set of elected representatives taking over their responsibility for the new academic year. Fr Victor Lobo, Principal, Dr Joyce D'Souza, Student Council Governor, and Mr Sanjay Sahay, Chief Guest, were present at the ceremony.

Mr Sahay gave his insights to the students on different traits of life that a person should hold on to. He urged the students to dream big, achieve great things, focus on learning, be persistent, walk in simplicity in one's calling in life, and develop the ability to change the world through right decision-making processes and so on.

He elaborated on how, in this world of technology, if a person is not technologically well-versed he or she would not be able to cope in society and he or she will not be able to survive in this world. "Show your mettle to be a leader and be cumulative so that you will be able to give to the community. As part of the Student Council, prove yourself," said Sahay. He spoke on how people retrieve things; how they collect data first, store it as information, then learn from it and gain knowledge and finally it is retained as wisdom. He said every individual who lacks individuality is not fit for society. And one must be a good learner as learning is the skill to comprehend, assimilate, analyse and then find solutions to problems. Student Council from other colleges were also invited for the event.


Back