SJC exhibits scenes behind filmmaking

The Bachelor of Visual Communication (BVC) students from the Department of Communication showcased filming devices and their in The Lab and Film Exhibition that organised at the Viscom Lab of the Science Block as part of the Fr Ambrose Pinto, SJ, Memorial Exhibition on Thursday, December 13.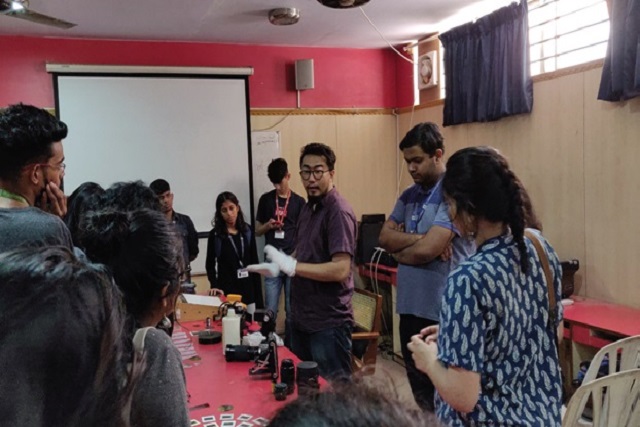 On the occasion, head of the department Johnson Rajkumar shared his technical expertise and knowledge of the devices that are used to capture still photos and moving images. The exhibition was designed and decorated so visitors could experience the world behind the scenes. Each device used for filmmaking were explained in minute detail and the visitors were given a brief explanation about the functions of each.

The other part of the exhibition dealt with the screening of different films. The aim of the screening, which was a part of the exhibition, was to show how the projection of different films takes place.

They used films of various lengths especially 16 mm, 35 mm to explain the basics of the film projection of variable sizes. One film had scientific content, another was humorous and yet others belonged to other genres, chosen to retain the attention of the viewers and also to give an idea of sound projection.

"Filmmaking is an art and requires a precise blend of technical knowledge and experience to present the exact picture the maker has created in his mind," Rajkumar told The Beacon while explaining how projections work.

Back