Signature campaign for Science March

The students of St. Joseph's College gathered at the UG quadrangle for a signature campaign to support the 'India March for Science' scheduled for Wednesday from Town Hall to the Senate Hall in the City.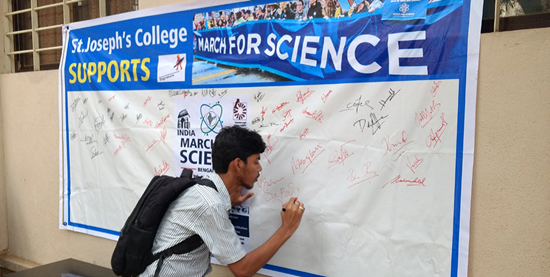 "Our college has been prominent in setting up basic undergraduate and post graduate courses in science. Over the years, the policies by the government and the funding slowly declined.

This campaign will make the students aware about the need for science and to utilise the facilities to practice what they have learned through their studies" said Madappa M.B, HOD, Department of Biotechnology.

"It's persist or perish. If you want to persist, then there has to be innovations. For innovations there has to be more research in the field. To include research, we need funding. If there is no funding from the government and agencies, then no innovations can be expected from the field. So we strongly support the march," said Dr. Sayed Wajeed, HOD, Department of Microbiology.

"There are many people choosing the science field especially look for research work. The scope in the field is declining and we are unable to get advanced equipment for our studies which are expensive in the market and we hope this march will help us to get funding from the government agencies," said Mimansa Prajapati, a student of Biotechnology.
Back