State Level Seminar on Research in Business

The state level seminar on Research in Business was held on the 4th of July 2017, organised by the Department of Commerce of St. Joseph's College (Autonomous). This seminar was the pioneer of the seminars being held henceforth. The theme of the seminar was chosen in order to understand the basic criteria required to explore and conduct an extensive research in Business.

The inaugural function of the seminar was held at 8:45 am .there were about 140 participants from various colleges and universities. Prelude to the commencement of the seminar the chief guest and the delegates lit the lamp. There after the chief guest, the delegates and the other participants were welcomed by the programme coordinator Prof. Princy Nisha from the department of commerce. The seminar was inaugurated by Rev. Father Victor Lobo. He spoke about the importance of generation of ideas and also brought forward the importance of research and creativity. He enlightened us on the Globalised Educational Structure.

The chief guest Mr Wencuslaus Anthony (member of New Zealand order of merit) emphasized on the importance of Research and in doing so finding answers to most of the evolving questions. He also communicated to the audience about the Rich Heritage and unity of the Indians and also spoke about the Indian Diaspora He says "Attend to your call of duty". In conclusion he said "We need ignited minds!" Mr Wencuslaus was then felicitated and the inaugural function came to an end.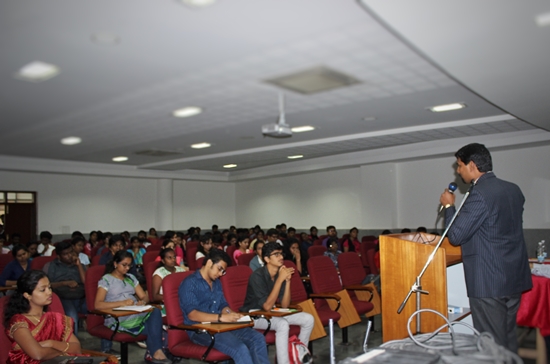 We had three technical sessions. The first session (INTRODUCTION TO REARCH) was held between 9:30 a.m-10:45a.m and Dr. Subhashini Muthukrishnan (Dean of social sciences head St Joseph's College Autonomous) highlighted the meaning of research and the ways of conducting one. She said "Research means to create knowledge" As per the seminar to application of knowledge is the use of all research. Research is the art of covering unknown and core areas. Research is challenging and encourages curiosity and learning. She also emphasized on the Process of Enquiry and suggested the participants to observe and question whatever we see and want to establish a research on and then generate hypothesis. Dr Subhashini concluded with the essentials of a good research (motivation, objectives, process).

The second technical session, PROCESS OF LITERATURE REVIEW commenced at 11:25-12:10 p.m. Dr Manojit Bhattacharjee (Prof. Dept. of Economics, St.Joseph's college Autonomous) brought out the importance of review of literature, and the methods followed to acquire proper literature of the research questions. He also stated that "Research helps in finding different answers to the same questions". To improve your research you need to compare it with different qualitative aspects he stated. He emphasized on scrutinizing and narrowing down to a topic of interest and further defining its boundaries. He described that different ideologies go into answering one same question and with the differences in these answers the flaws are highlighted.

The final technical session INTRODUCTION TO RESEARCH OBJECTIVES, DATA COLLECTION, PROCESS AND FINDINGS was taken over by Dr. D Raja Jebasingh,he encouraged us to follow a systematic manner of research and communicated to the participants of how to identify research problems and determine the data collection techniques and execution of such data and urged the audience to develop the habit of reading for better research he further laid down the basic protocols of the research plan and methodology. He specified the identification of problem statements and the process of selecting the research topic. He then concluded the session by defining the APA model.

Succeeding these three sessions a panel discussion was held. The dignitaries were Dr. Ramesh s, Dr Manojit Bhattacharjee, Dr. Christo Selvan and Dr V Babu. The topics of discussion revolved around THE RECENT TRENDS IN BUSINESS. The questions laid down by Mr Christo Selvan to the respected panel members were:

1) The necessity of research in the Emerging Topics in Business.
2) Publication of reports with the guidance of a reputed publisher.
3) What tools and techniques that could be used for a resourceful research?
4) What kind of qualities must a researcher have?

To end with the session One question from the participants was raised to the panel members.

The problems arising due to lack of applications in Indian Research.

In conclusion the panel put forth the importance of Development in technology, Implentation and willingness to conduct a research and Dr. Subhashini concluded that perseverance is one such quality to become a research scholar.

The seminar thus came to an end with the valedictorian ceremony, with Dr. Richard Rego congratulating the Department of Commerce to have successfully accomplished their first state level seminar. The seminar then came to an end with the Vote of Thanks being delivered by professor Cyril Antony.

By-
Prerna. Talreja
Samskruthi.S
Dhandapani.P


Back